Hillary Clinton Immigration Reform 2015 Comments: What Democratic Presidential Candidate Said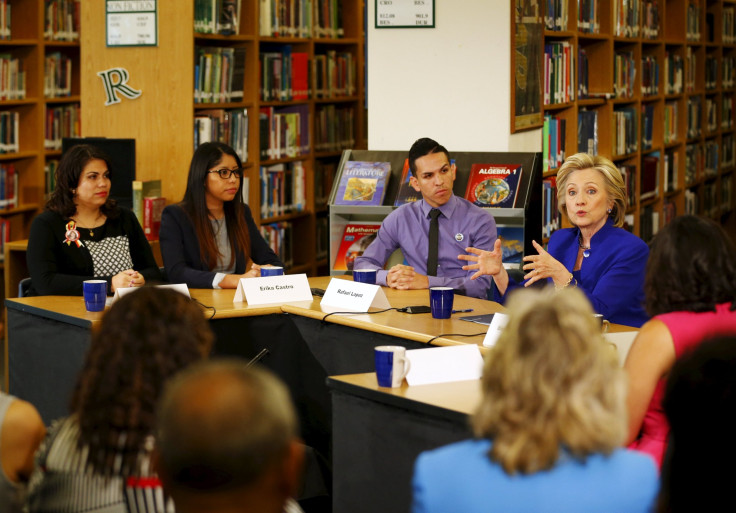 Democratic presidential candidate Hillary Clinton spoke about immigration reform during an appearance at Rancho High School in Nevada on Tuesday, were the student body is 70 percent Latino, Reuters reported.
"We can't wait any longer for a path to full and equal citizenship. Now, this is where I differ from everybody on the Republican side," she told students at the school, which is less than 10 miles north of the Las Vegas strip. "Make no mistake. Today not a single Republican candidate, announced or potential, is clearly and consistently supporting a path to citizenship. Not one."
When Republicans talk about legal status, Clinton said, "that is code for second-class status and we should never forget who this debate is about."
Clinton revealed she supports "an accessible way for parents of DREAMers and others to be eligible for the same deferred action as their children" since they "deserve a chance" to remain in the U.S. with their families, Bloomberg.com wrote. "I will fight for comprehensive immigration reform and a path for citizenship for you and your families across our countries," she said.
Clinton said that reforming America's immigration system won't only benefit families. "We have to pull together and resolve our issues around our broken immigration system," she said. "The American people support comprehensive immigration reform, not just because it's the right thing to do -- and it is -- but because they know it strengthens families, strengthens our economy and strengthens our country. That's why we can't wait any longer."
A video of her appearance was posted on Reuters.
Follow me on Twitter @mariamzzarella
© Copyright IBTimes 2022. All rights reserved.
FOLLOW MORE IBT NEWS ON THE BELOW CHANNELS