Election 2016: Jeb Bush's Immigration, Education Policies Remain Problems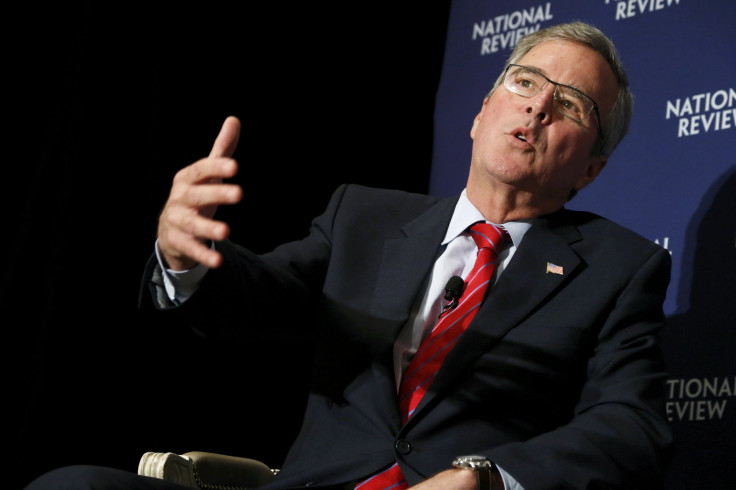 WASHINGTON -- Jeb Bush is going to spend the next year defending his positions on issues that don't always sit well with the conservative wing of his party. And on Thursday, he test-drove his defense of immigration and Common Core at an event organized by the conservative National Review.
They are going to be the biggest policy problems facing Bush in the 2016 presidential campaign -- if he runs, though all signs point to yes. He has shown no sign of backing away from his most controversial positions, and instead fully embraced policies that conservatives in his party criticize. But his views on immigration and education remain controversial among Republican primary voters in states like Iowa and South Carolina, where he will need to be successful if he's going to secure the nomination.
Bush gave a full-throated defense of his views on immigration Thursday, saying that the nation suffers when high-skilled and low-skilled workers aren't allowed to legally immigrate into the country. "You need younger more dynamic people inside of our economy that are productive to get to 4 percent growth," Bush argued.
He knew the crowd before him -- Washington's more conservative thinkers -- wouldn't necessarily agree with him on the immigration front. "Maybe I'm stubborn. I'm willing to listen to other views on this. If we're going to grow economically, then we need to figure out how to get this fixed," Bush said, drawing applause from about half the room.
Bush outlined his proposal, which would limit the number of family members immigrants are allowed to petition for to come legally to the country. Currently, someone may petition for their immediate family, spouse and children, but also their adult siblings and parents, a situation he called "chain immigration." In response, Bush said, caps would be placed on how many immigrants could come from some countries because "half the country would come if they were allowed to."
Bush wants to limit family petitions down to immediate family members and then expand the number of skilled workers who can get a visa. "Canada stole our immigration plan and made it better. We should resteal ... and make it better," he said.
Bush also pushed back at the conservative proposal to completely lock down the nation's border before allowing amnesty or new immigrants. He pointed to the details of such a proposal being the potential sticking point. "The details of at what point you say the border is secure -- I worry about total security in which we have to lose some of our freedom," he said.
Bush also pushed back at criticism for his support of Common Core. The program, which was designed by a group of governors to create a consistent form of education standards, has become education enemy No. 1 for conservatives after it was endorsed by President Barack Obama. Several of the Republican candidates have been very vocal in advocating getting rid of the program, although none have detailed a way to force states to repeal the rules.
Bush, who was a two-term governor of Florida and made school reform a top priority while in office, has argued that Common Core is in the best interest of students. He pointed out that standardized testing -- the central gripe of most Common Core opposition -- has been around for a long time. And that states have been able to opt out.
"Lowering expectation, eliminating accountability is going to doom a whole generation of people and I for one won't take," Bush said.
© Copyright IBTimes 2023. All rights reserved.