Hillary Clinton Makes History: List Of Female Presidents And Prime Ministers In The World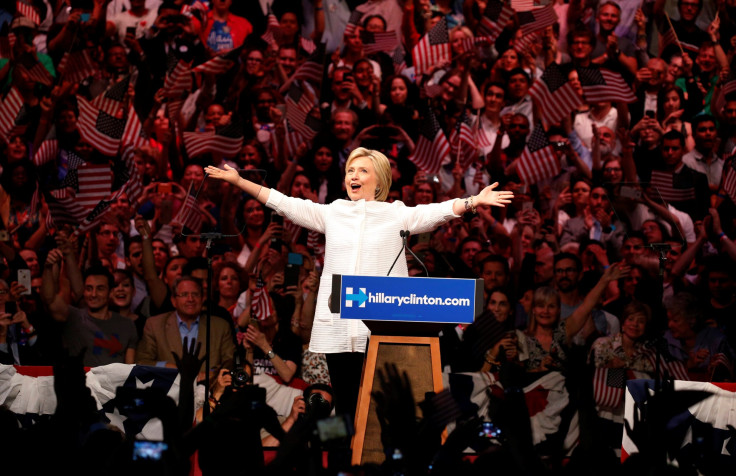 With major primary wins in California and New Jersey, former Secretary of State Hillary Clinton became the Democratic Party's presumptive nominee — the first woman ever to do so, marking a major milestone in American politics.
"It may be hard to see tonight, but we're all standing under a glass ceiling right now," Clinton said to supporters in Brooklyn on Tuesday evening. "Thanks to you, we've reached a milestone — the first time in our nation's history that a woman will be a major party's nominee."
Australia's first female prime minister, Julia Gillard, congratulated Clinton after she won California on Wednesday, perhaps welcoming her to a small but growing club of female heads of state and government. (Gillard served as prime minister 2010-13.)
While Tuesday evening made history in the U.S., in other nations around the globe, women have served as a presidents and prime ministers. In 2015, there were 18 female leaders around the world, including 12 heads of government and 11 heads of state (some leaders served as both), according to data from the United Nations.
Current female leaders of major global economies include German Chancellor Angela Merkel, South Korean President Park Geun-hye, Polish Prime Minister Beata Szydło and Norwegian Prime Minister Erna Solberg. (Brazilian President Dilma Rousseff is currently under investigation for alleged corruption.)
The number of female government leaders and ministers continues to grow, but parity is still a long way off. Only 30 countries have 30 percent or more female ministers in their governments.
"All progress is welcome. But our data is uncompromising in its truth. We are a long way from where the world needs to be on gender equality and women's political participation," Inter-Parliamentary Union President Saber Chowdhury said in a U.N. release. "This data should be a wake-up call to mobilize political will to change mindsets and take action that will spur progress on this issue."
A study conducted by the World Economic Forum found women in 63 out of 142 nations had served as the head of state or government in the 50 years leading up to 2014. However, in a majority of those nations, women held power for less than four years. India, Ireland and Bangladesh have seen the longest durations of women in power, for a combined total of over 20 years, according to data from the Pew Research Center.
© Copyright IBTimes 2023. All rights reserved.
FOLLOW MORE IBT NEWS ON THE BELOW CHANNELS