At Homs Evacuation, Syrian Rebels And Soldiers Come Warily Together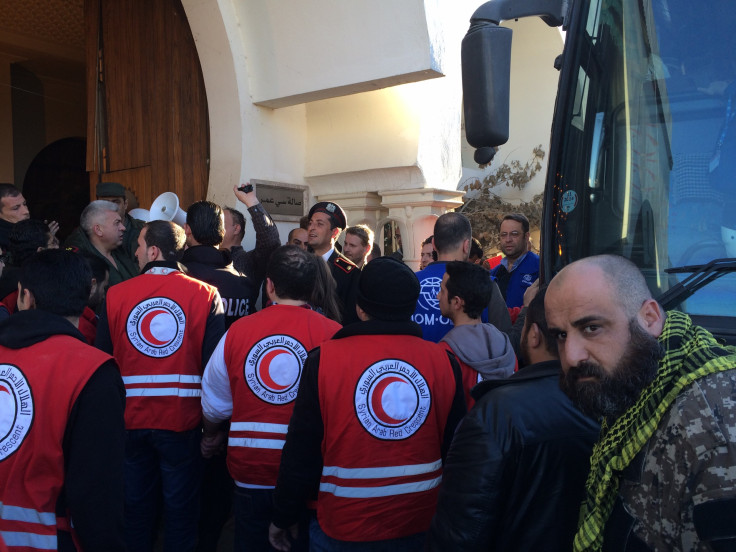 HOMS, Syria -- It may not be the first time that Syrian rebels and soldiers stand so close, but this week there would be no fighting, even as fear and anger erupted between them.
Such is the scene at the evacuation site in Syria's embattled city of Homs, where hundreds of people were evacuated from the old city after a ceasefire agreement ended a 600-day siege by government forces. Among the evacuees were dozens of women and children, the youngest a 5-day-old boy.
There were also dozens of military-aged men, 15 to 54, many presumed to be rebels who put down their weapons for the promise of safe passage and the hope of joining their families, who had long fled the war in the ancient city. For these men, with tired bodies and intense expressions on their faces, important questions lingered.
Once in government-controlled Homs, will the ceasefire agreement really guarantee their safe passage? Will the Syrian authorities who have spent the past three years pursuing, bombarding and starving them now end up letting them go? Will the Syrian soldiers whom the rebels had been fighting recognize their faces?
Yes, it seems, at least for the latter.
There were dozens of uniformed Syrian army soldiers and officers from every intelligence branch at the evacuation site. Most of them were on their best behavior in front of United Nations observers, humanitarian aid workers, and the press corps.
But a handful of soldiers who had lost friends and family in the war could not help themselves as they searched the faces of the men they blamed for the fighting.
"That's them, that's them. The bastards, that's them," one soldier said to his buddies as he pushed himself up on tiptoes with a cellphone in hand. He was trying to take photos of a group of young men about to disembark the evacuation bus. The young men, themselves tired and defeated, also seemed to recognize the soldiers. One man's eyes briefly betrayed a look of intense fear before he hid his face from the soldier's camera. Another soldier gestured at the men with a finger across the neck, depicting a knife to the throat.
To protect the evacuees, Red Crescent personnel formed a human chain from the bus into the evacuation center, which in better days served as a banquet hall by the Orontes River for the middle class of Homs.
On the first day of the evacuation a week ago, emotions ran so high that a few angry soldiers broke through the human chain to take a close look at the men.
"They were calling them 'you dog' and 'you bastard' and promising revenge," said an eyewitness. "So after that day, the Red Crescent started using only the strongest and most hefty men on their staff to form a human chain and prevent soldiers from breaching it."
For his part, Homs Governor Talal Barazi has earned a reputation for goodwill for trying to keep the peace and protect the evacuees. He was not shy at expressing discontent with the behavior of some soldiers.
"Get back. Get back right now, each and every one of you. And put those cellphones down immediately," he shouted into the megaphone at the soldiers as aid workers helped evacuees get off the bus.
The soldiers lingered a bit longer before they obeyed more direct orders from their superior officers and hung back. One high-ranking officer was overheard shouting into his cellphone in what sounded like discontent at news of soldier insubordination.
"Do they think they can each act anyway they please? They had clear orders. Send them all to the brig. I know how to deal with them," he said.
Some soldiers betrayed a more gentle disposition, their faces quickly softening when they saw the dozen or so injured young men who were among the first to be evacuated. They were on crutches, and some were amputees. One man on a stretcher appeared to have endured a terrible hip injury before his bones fused together the wrong way. One of his legs was stuck pointing upward at 90 degrees. A blanket precariously covered his groin area.
Later, inside the banquet hall, a gregarious soldier showed a photo of a young man on his cellphone. He said this was a fallen soldier "and a very close friend".
"One of them killed him," he said, referring to the 117 men who sat quietly just feet away. "But I forgive. If this agreement means the country will pull back together, and we'll be like we were before, then I forgive."
The ceasefire agreement stipulates that Syrian authorities can vet the men before releasing them. Those with egregious violations can be prosecuted in accordance with the law. This process, referred to in Arabic as "normalization of status," involves debriefing by state security and determining those who "have blood on their hands". So far, UN observers have been overseeing this process at the temporary shelters.
According to the governor, 220 of the 1,400 people evacuated over the past week are still undergoing "normalization." Early this week, 111 were released after they were supposedly cleared of wrongdoing.
It is not clear what will happen to the men after their release. Many fear that once UN observers are gone, the names of the evacuees will be blacklisted and distributed to checkpoints, and that no one can protect them from arbitrary detention, torture or revenge killing by government loyalists.
On Friday, the UN said it temporarily suspended the evacuation operation because too many men were still detained by the authorities. But the ceasefire has been extended over the weekend, and more evacuations are expected.
Back at the banquet hall, Governor Barazi announced to the men what to expect next.
"We're taking you to a temporary station. Be patient with us for a couple of days until this process is over. You're in the embrace of the state. You're all our children. Anything you want or need, just say it, with confidence. Don't be afraid," he said.
A few of the young men exchanged glances with each other, their faces tense.
"I am not afraid, but I really hope what he's saying is true," one of them mumbled.
FOR FREE to continue reading
✔️ Unlock the full content of International Business Times UK for free
offer available for a limited time only
✔️ Easily manage your Newsletters subscriptions and save your favourite articles
✔️ No payment method required
Already have an account?
Log in
© Copyright IBTimes 2023. All rights reserved.