Hong Kong Court Rejects Jimmy Lai Challenge To National Security Body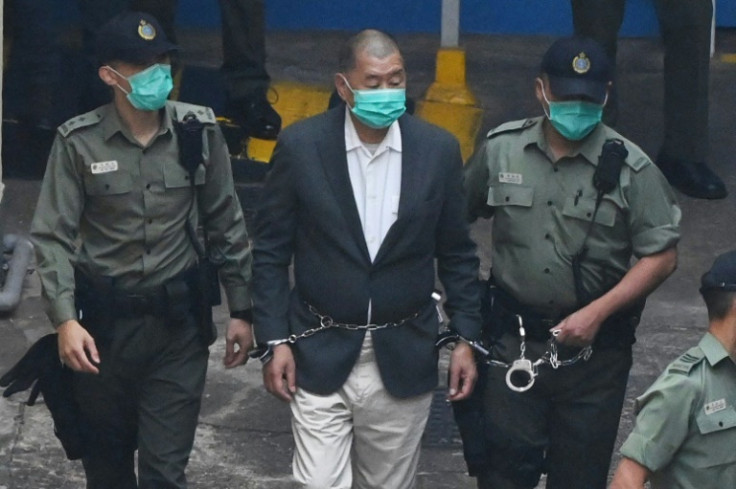 A Hong Kong court on dismissed Friday a legal challenge by jailed pro-democracy media tycoon Jimmy Lai, conceding it had "no jurisdiction" over Beijing's national security apparatus in the city.
Lai, founder of the now-shuttered tabloid Apple Daily, is awaiting trial for alleged "collusion with foreign forces" -- an offence under a security law Beijing imposed in 2020 to quell dissent.
Three levels of Hong Kong's courts previously allowed Lai to be represented by veteran British human rights barrister Tim Owen, overruling repeated objections from the government.
But Beijing intervened in December, announcing that city leader John Lee would have the power to bar foreign lawyers from national security trials.
The National Security Committee -- a top-level government body answering directly to Beijing -- then advised immigration authorities to withhold Owen's working visa.
High Court judge Jeremy Poon -- the same justice who backed Lai's lawyer choice in a ruling last year -- on Friday ruled the media tycoon could not contest the committee.
"(Hong Kong's) courts have no jurisdiction over the work" of the National Security Committee, he wrote in a decision.
"The supervisory power over the (committee) is hence reserved to the Central People's Government exclusively," he said, adding that local courts have "neither training nor expertise" to deal with the committee's work.
Poon's ruling on Friday underscores Beijing's ability to trump Hong Kong courts, despite the city's guarantee of judicial independence from the mainland legal system.
Hong Kong's common law tradition, inherited from British colonial rule and distinct from the mainland Chinese system, had been key to its appeal as an international legal and business hub.
But under the security law -- imposed by Beijing to stamp out opposition after massive pro-democracy protests in 2019 -- critics say Hong Kong has seen its autonomous status and freedoms steadily eroded.
Last week, in an echo of Beijing's December intervention, Hong Kong's opposition-free legislature imposed a blanket ban on foreign lawyers in national security trials, unless approved by city leader Lee.
Eric Lai, a fellow at Georgetown University's Center for Asian Law, said it was "disappointing that the court chooses such a passive position".
"The ruling demonstrates that Hong Kong's judicial independence and rule of law have limits... It is worrying that the court appears not to perform checks and balances against local government misuse of power in the name of (safeguarding) national security," the scholar told AFP.
At an earlier hearing, the media tycoon's lawyer argued that if the committee was beyond Hong Kong's jurisdiction, it could arbitrarily jail people or seize private property and victims would have no recourse -- which judge Poon on Friday dismissed as "alarmist".
Lai's trial, originally scheduled for December, was postponed to September due to the lawyer dispute. He faces life in prison if convicted.
More than 100 media leaders globally signed a Reporters Without Borders petition this week calling for the 75-year-old's release.
The Hong Kong government condemned the petition as a "wrongful attempt to interfere with the judicial proceedings".
© Copyright AFP 2023. All rights reserved.