Hong Kong Occupy Central Protests: White House Supports Democratic Protesters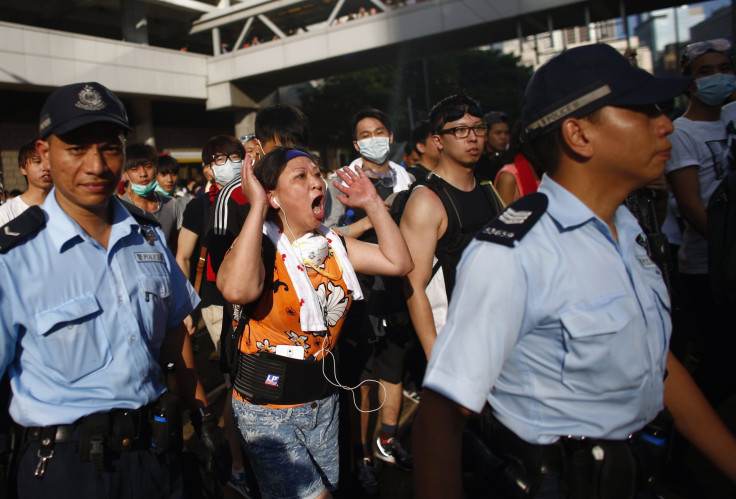 The U.S. supports the "aspirations" of pro-democracy protesters in Hong Kong, White House press secretary Josh Earnest said Monday. Thousands of students and activists have taken to the streets to demand the Chinese government allow them to democratically elect Hong Kong's top government official.
"The United States supports internationally recognized fundamental freedoms such as the freedom of peaceful assembly and freedom of expression," Earnest said. "The United States urges the Hong Kong authorities to exercise restraint and for protesters to express their views peacefully."
Hong Kong police have responded to some protests with tear gas and pepper spray. At least 78 demonstrators were arrested and 41 injured as of Monday night. See photos from Sunday and Monday's clashes here.
"The United States supports universal suffrage in Hong Kong in accordance with the Basic Law and we support the aspirations of the Hong Kong people," Earnest said. "We believe that an open society with the highest possible degree of autonomy and governed by the rule of law is essential for Hong Kong's stability and prosperity. Indeed this is what has made Hong Kong such a successful and truly global city to this point."
Earnest said the White House has made their position clear to the Chinese government.
"We believe that the basic legitimacy of the chief executive in Hong Kong will be greatly enhanced if the Basic Law's ultimate aim of selection of the chief executive by universal suffrage is fulfilled," Earnest continued.
The United Kingdom's Foreign Office shied away from offering outright support for democracy in Hong Kong. Instead it limited its remarks to support for peaceful demonstrations.
"Hong Kong's prosperity and security are underpinned by its fundamental rights and freedoms, including the right to demonstrate," the Foreign Office said. "It is important for Hong Kong to preserve these rights and for Hong Kong people to exercise them within the law."
© Copyright IBTimes 2023. All rights reserved.