Hong Kong Poll: Politicians Less Popular, While Pro-Democracy Leader Continues Popular Rise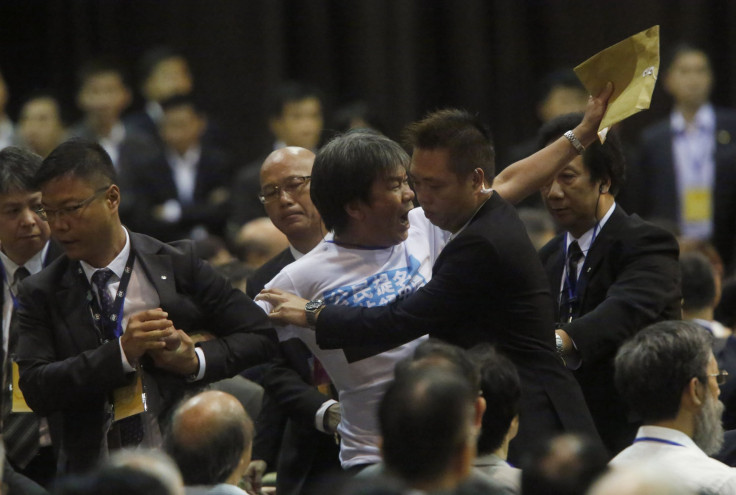 Hong Kong's politicians took a hit to their approval ratings in a poll released Tuesday, three weeks into pro-democracy street protests that have brought the city to a halt. The poll suggests "that the recent mass movement has taken its toll on councilors from all camps," according to the polltakers at Hong Kong University.
Seven out of 10 "top" Legislative Councilors, meaning the most well known in Hong Kong, saw their approval numbers drop from three months ago. The top four members marked their lowest approval ratings since 2008, 2006, 1994 and 1995, respectively. Leung Kwok-hung, the theatrical pro-democracy legislator known as "Long Hair," was the only council member to rise in popularity. He gained two percentage points, up from 37.9 percent approval in July.
Since September, protesters have occupied the streets of some of Hong Kong's most prosperous and popular districts to demand fully democratic elections for chief executive, the top spot in Hong Kong's leadership. The unrest came after the Chinese government announced it would screen potential candidates in 2017 to ensure loyalty to Beijing. The protest movement, known as Occupy Central, brought tens of thousands of young people to the streets after police violently reacted to the first wave of protests. Hong Kong's leadership agreed to talk with protesters after a week of protests to lift the city out of crisis.
Student protest leaders and Hong Kong's leadership started those negotiations Tuesday. The city's embattled chief executive, Leung Chun-ying, said there was room for negotiations but reiterated that Beijing wouldn't allow for fully democratic elections for his successor in 2017. "There's room to make the nominating committee more democratic, and this is one of the things we very much want to talk to not just the students but the community at large about," Leung said.
The three-week-old protests, which have complicated movement in the city and blocked people from commuting, soured the opinions of some Hong Kong residents on the pro-democracy movement. Tensions have turned into clashes between protesters and anti-protest groups on a handful of occasions. Hong Kong police said they are prepared "for any riots."
The poll was taken in two stages in sample sizes of 1,012 and 1,013 with a response rate of 66.9 percent and 65.9 percent, respectively. Respondents chose the top 10 Legislative Council members "they knew best" from Oct. 6-9. Those names were then entered into the ratings part of the survey, which was taken from Oct. 13-16.
© Copyright IBTimes 2023. All rights reserved.