Hong Kong Protest Leaders Denied Entry To Beijing Flight; Alex Chow, Other Protest Leaders Aimed To Put Case To China Leaders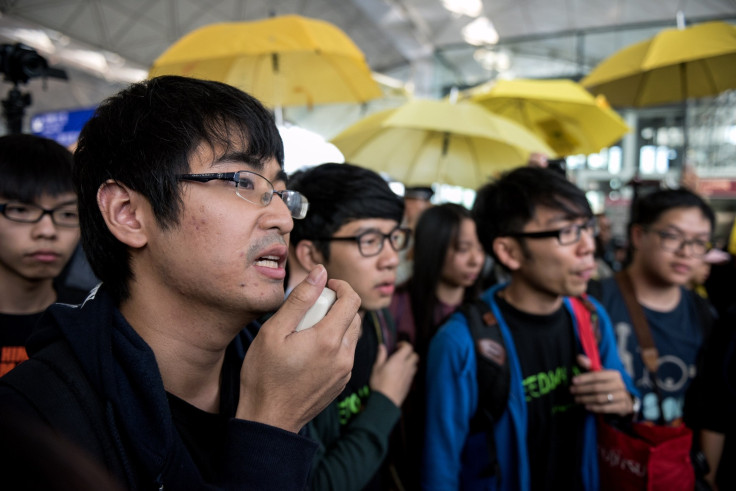 HONG KONG -- Leaders of student protest groups in the city who attempted to fly to Beijing to make the case for greater democracy to Chinese officials have been turned back at the airport, according to multiple media reports.
Alex Chow, Eason Chung and Nathan Law, leaders of the Hong Kong Federation of Students, one of the groups at the forefront of pro-democracy demonstrations in the city for the last six weeks, were denied boarding for their Cathay Pacific flight from Hong Kong to Beijing. They were informed their travel documents were invalid, the Associated Press reported.
According to local broadcaster RTHK, the group's Home Return Permits, the visas Hong Kong residents require to travel to mainland China, had been canceled. The student leaders had hoped to have talks with senior Chinese leaders, including Premier Li Keqiang, or members of the National People's Congress Standing Committee.
The group had been accompanied to Hong Kong's airport by well-wishers toting the yellow umbrellas that have become emblematic of the city's pro-democracy protest movement.
The protest-group leaders had said earlier they would cancel their proposed trip if police in the city appeared likely to attempt to remove demonstrators from protest sites. They also said they were prepared to face arrest in pursuit of their goals, according to EJInsight, a respected Asian news-analysis site.
News of the crimp in the protesters' travel plans came as Carrie Lam, a former chief secretary -- Hong Kong's most senior government official after the chief executive -- said any such trip was "unnecessary." Lam said the report of a public consultation submitted to Beijing by Hong Kong's government "pointed out with faith that there are different opinions about the nomination process of the chief executive. That included civil nomination proposed by the Federation of Students," the South China Morning Post reported.
"If the Federation of Students is going to express such views, it seems [their trip] isn't a big necessity," Lam said.
Meanwhile, authorities in Hong Kong appear to be preparing to mount a significant effort to dislodge protesters, who have occupied key thoroughfares in the city for weeks.
Injunctions granted against demonstrators in the city's Admiralty and Mong Kok districts -- the two largest protest sites -- have been upheld in court rulings handed down this week. The rulings make it increasingly likely that bailiffs, backed by police officers, will make a significant attempt to clear protesters and remove barricades as early as Monday.
Demonstrators in the city are seeking to have the 2017 election for the city's chief executive, the leader of the semiautonomous region's government, held in a fashion consistent with "international standards" of democracy. An Aug. 31 ruling by the Standing Committee of China's National People's Congress, the country's primary legislative assembly, dictated that candidates for the post would have to be vetted and approved by a committee widely seen as a beholden to China's Communist Party government.
© Copyright IBTimes 2023. All rights reserved.