Hong Kong Protesters Clash With Police In Mong Kok In First Violence Following Period Of Calm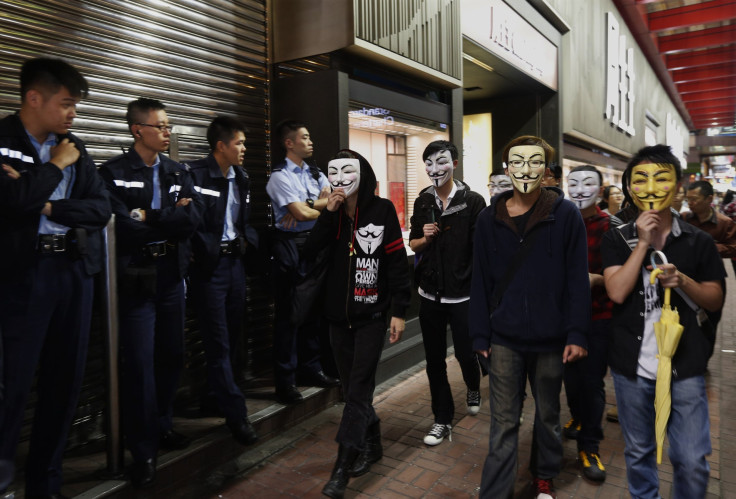 HONG KONG – Police arrested three people in the early hours of Thursday after pro-democracy protesters clashed with police. It's the first violence following several days of peaceful co-existence between demonstrators and authorities.
Video shot by activists shows scores of protesters clashing with police in the city's Mong Kok district, the second-largest of the three protest sites in the city. The clashes started after protesters reportedly gathered outside the area that they have held almost continually for almost five weeks, prompting police to try and force them back.
According to local broadcaster RTHK, tension between police and protesters had escalated throughout Wednesday evening, following incidents that saw a number of activists parade through the Mong Kong protest area wearing Guy Fawkes masks, and another incident where a man allegedly used a camera flash to provoke a policeman.
At around 2 a.m. local time on Thursday (2 p.m. EDT Wednesday), dozens of police officers, armed with batons and riot shields, swept into the area and tried to disperse protesters. There were no reports of officers being injured.
Guy Fawkes masks have come to be associated with many protest movements, including the Anonymous "Hacktivist" collective and many anti-capitalist movements. Nov. 5 is Guy Fawkes night in the U.K., an annual commemoration of Fawkes' 1605 plot to blow up the British Parliament.
Images shared on social media showed police restraining bloodied demonstrators, while others purported to show blood on the street following altercations.
The clashes were the first following several days of relative peace in the city. The last major clashes took place Oct. 18, also in Mong Kok, when police attempted to clear the protest site at Mong Kok and reopen the busy Nathan Road to traffic. Thousands of protesters swarmed the site and reoccupied it.
Protesters took to the streets in late September, following an August ruling by China's National People's Congress that would enforce political vetting from Beijing on any candidate who stood for the post of Hong Kong's chief executive in the next elections in 2017. Hong Kong was handed back to China from the U.K. in 1997, with an agreement that the city would enjoy a high degree of autonomy and would be on a path to implementing a democratic system, including universal suffrage.
On Wednesday, pro-Beijing Hong Kong lawmaker Regina Ip proposed giving student protest groups seats on the committee which would politically vet candidates. Protesters have rejected the proposal, branding it "idiotic," according to a report from the South China Morning Post.
Police have attempted to take a hands-off approach to controlling the protests after videos of officers beating a restrained demonstrator and of officers using tear gas prompted a surge in local support for the protests.
© Copyright IBTimes 2023. All rights reserved.