Hong Kong Protesters To Vote On Government Proposals Sunday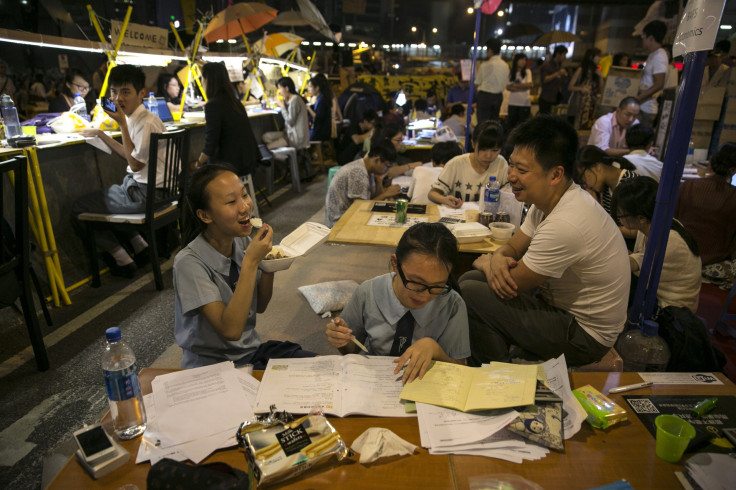 HONG KONG -- Pro-democracy protesters in Hong Kong will participate in a poll Sunday to determine whether protest leaders should accept proposals made by city authorities in talks held earlier this week.
The three main protest groups -- Occupy Central, the Hong Kong Federation of Students (HKFS) and Scholarism -- will hold the vote at the protest site in the city's Admiralty district, outside government headquarters, on Sunday night between 8 p.m. and 11 p.m. local time (8 a.m. to 11 a.m. EDT).
According to Occupy Central, the purpose of the vote will be to gauge the level of support for the HKFS' position that the methods for conducting elections for the city's chief executive in 2017 should be discussed in a multilateral platform, and whether an extra report from the Hong Kong government to the authorities in Beijing on the sentiments expressed during the protests would have meaningful use.
The vote will be carried out by the University of Hong Kong's Public Opinion Program, which carried out two previous unofficial polls for protest groups in the city to assist in the formulation of their demands. Those who intend to vote must provide their identity card and mobile phone numbers, according to Hong Kong's Standard newspaper.
In talks held in Hong Kong on Tuesday, authorities offered to submit a report to the Hong Kong and Macau Affairs Office -- the main official channel for dialogue between Hong Kong's government and lawmakers, and Beijing -- on the protest groups' demands, and to set up a platform for dialogue on constitutional development and political reform.
Protest leaders had expressed disappointment with the outcome of the talks. HKFS leader Lester Shum told Voice Of America that he was shocked that authorities were still asking protesters to accept the same Beijing-backed plan for elections that sparked the protests.
"I cannot believe that the government still insists on us to accept the deal first, still ask us to follow the National People's Congress Standing Committee's electoral framework," Shum reportedly said. "The government does not show any courage and sincerity to solve the political problem."
Anson Chan, a former top official in Hong Kong's government, urged authorities to put forward concrete proposals to end the deadlock, according to local broadcaster RTHK. Protesters have been given "nothing" so far and there is no point for further talks unless the government showed some sincerity, she added.
Protesters have occupied several main roads in Hong Kong for almost four weeks, demanding universal suffrage in the upcoming 2017 chief executive elections, and a guarantee that candidates for the post will not be politically vetted by the Chinese government.
© Copyright IBTimes 2023. All rights reserved.