Hong Kong Protests: Demonstrators Mark One-Year Anniversary Of 'Occupy' Movement, As Political Reforms Stall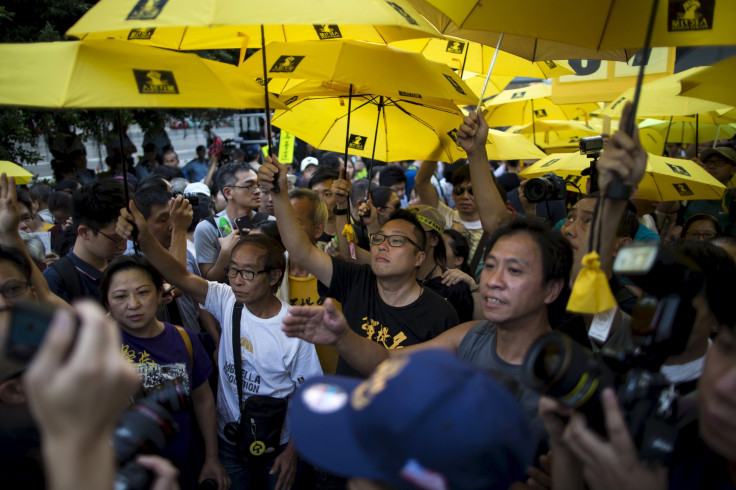 HONG KONG -- The minute of silence that was supposed to mark the one-year anniversary of the moment in 2014 when Hong Kong police first fired tear gas on pro-democracy protesters did not go as planned. Instead of silent reflection, at 5:58 p.m. local time Monday (5:58 a.m. EDT), demonstrators gathered outside the local parliament building offered a chorus of boos, aimed at the hundreds of police officers gathered at the site.
Silence was not on display Monday, but anger was; fury was directed at the authorities for failing to accede to demands from the the Occupy Central movement for greater democracy, which for 79 days late last year paralyzed key areas of this Special Administrative Region of China.
While the movement has largely dissipated, with protest camps cleared away and life in the city largely returning to normal, undercurrents of anger and tension remain. Some of the protesters lining a pedestrian bridge screamed angrily at scores of police officers gathered behind crash barriers below. Uniformed police making their way through the crowd could be seen carrying distinctive quivers with signs, seen often in last year's protests, declaring "STOP CHARGING OR WE USE FORCE," in both English and Cantonese.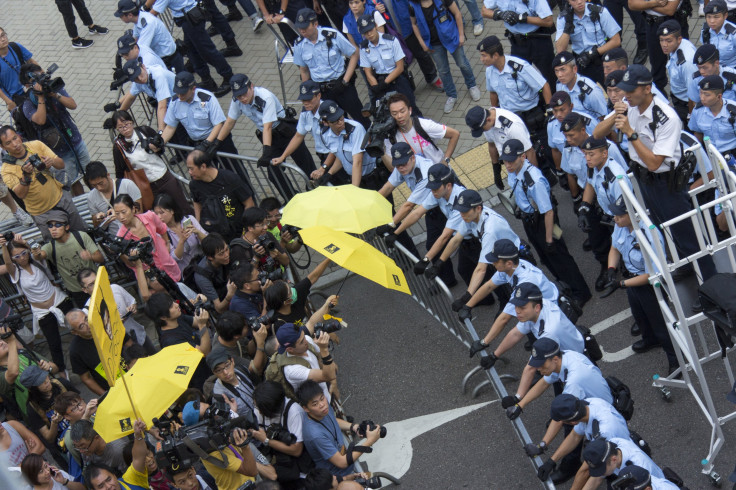 "We will keep fighting," a young demonstrator who identified herself only as Mai, told International Business Times on Monday. "We want real democracy in Hong Kong. We do not accept Chinese government restrictions," she added.
Senior figures from the groups behind last year's protests also raised the prospect of demonstrators taking to the streets once again. Benny Tai, a convener of Occupy Central, one of the groups instrumental in launching last year's protests, told demonstrators: "We can imagine that if the central government continues to deny Hongkongers genuine democracy, the people of Hong Kong will come out again," according to a translation from the South China Morning Post.
Protesters last year called for the election of the city's next chief executive in 2017 to be conducted in accordance with "international" standards of democracy. The Beijing government, however, insisted that all candidates for the post be vetted by a committee widely viewed as stacked with members loyal to China's Communist Party government.
Despite the strong emotions on display Monday, the prospect of renewed major street protests in the city seems remote. After Hong Kong lawmakers rejected a Beijing-backed plan for electing the city's next chief executive in June, the political reform process in the territory has effectively stalled. In addition, many of those who took part in last year's protests appear disillusioned with the chances of winning political concessions from Beijing.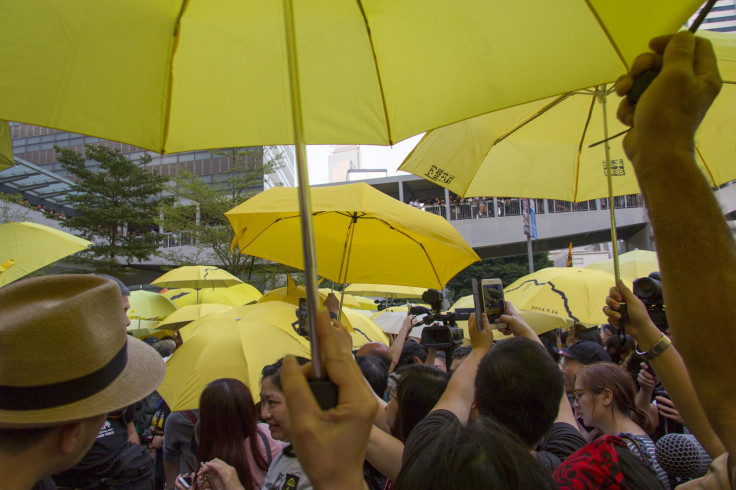 Pro-democracy Hong Kong lawmakers told IBT earlier this year that their parties were planning to concentrate on fighting local elections for the Legislative and District Councils, and said they saw little opportunity of negotiating with the Beijing government for increased political freedoms in Hong Kong.
"I think the political reform process is going to end for the time being," Surya Deva, an associate professor at the City University of Hong Kong's law school, told IBT, shortly before the vote on political reform took place in June.
"I do not see any possibility of the government initiating that process again in the near future. So the current governance crisis and the deadlock will continue for the near future," he said.
Despite the open displays of emotion, demonstrators were almost entirely gone from the protest site by 9:30 p.m. local time Monday. For the foreseeable future, at least, Hong Kong's political drama looks unlikely to be played out on the city's streets.
© Copyright IBTimes 2023. All rights reserved.