Hong Kong Security Chief Says 6 Police Officers Shown Kicking Protester On Video Were Reassigned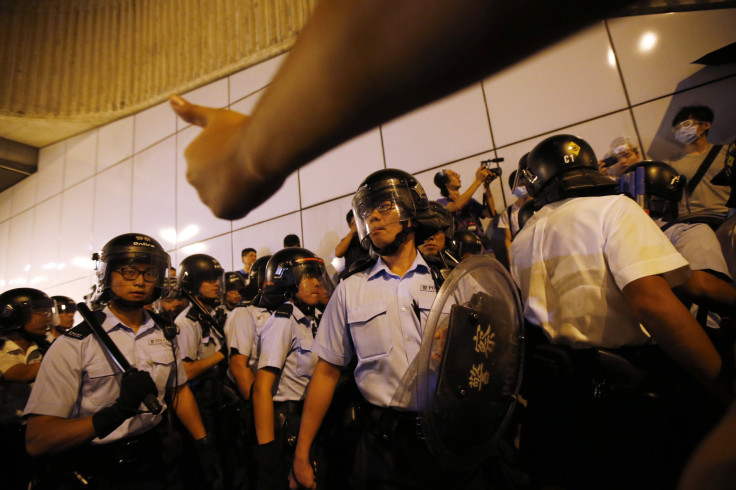 Hong Kong's security chief said Wednesday that six police officers accused of kicking a pro-democracy protester have been reassigned. The police department is now reportedly carrying out an investigation into the incident.
Secretary of Security Lai Tung-kwok's announcement came after a local news network aired a video of six police officers taking a man around the side of a building, placing him on the ground and kicking him, Associated Press reported. Lai said that the officers were shifted to other posts. On Wednesday, police reportedly also used pepper spray to disperse protesters, who used umbrellas, which have become a symbol of the Occupy Central pro-democracy movement, to safeguard themselves.
Tsui Wai-Hung, a police spokesman, had said earlier that four officers were hurt in the clashes. The region, which has remained tense as local authorities try to clear the city of protesters from the Occupy Central movement, saw violent clashes early Wednesday as police tried to clear barricades installed overnight in a tunnel.
Meanwhile, a report from the People's Daily, a Chinese state-run news agency, cited Lei Dingming, an economics professor at Hong Kong University Of Science & Technology, as saying that the region had taken a hit worth 350 billion Hong Kong dollars ($45 billion) until Oct. 7 in terms of a drop in the local stock market and revenue losses to the tourism, retail and hospitality industries, since the unrest began.
"These direct losses, increasing day by day, will never be recouped if the Occupy Central activity escalates," the report from the People's Daily Online said Wednesday, adding: "Every new move increases the price that Hong Kong will have to pay for this political chaos."
© Copyright IBTimes 2023. All rights reserved.