Hot Chicks of Occupy Wall Street: Sexism or Motivation? Steven Greenstreet Speaks [VIDEO]
Interview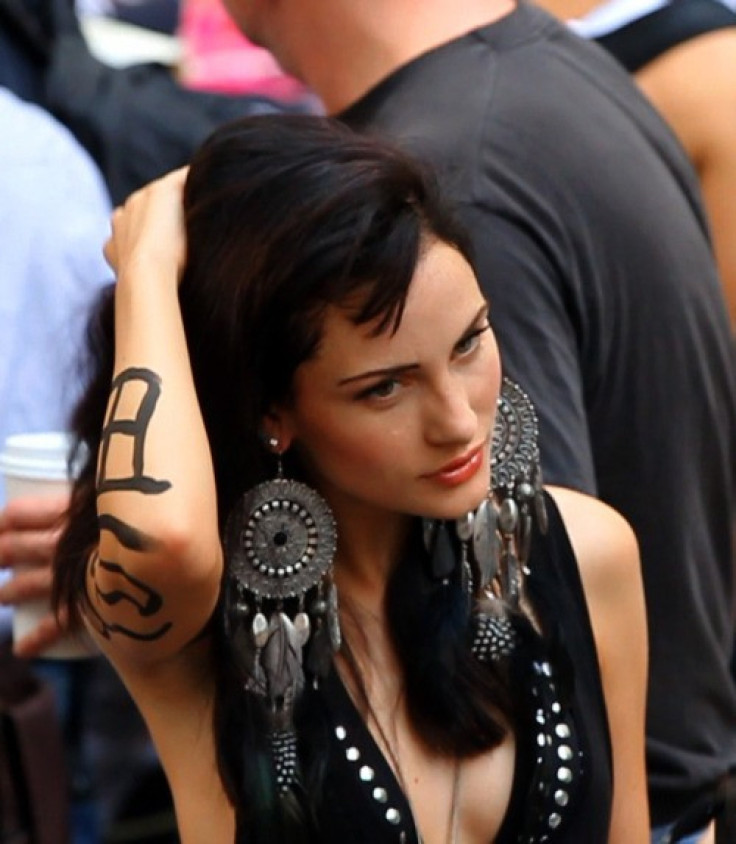 Occupy Wall Street has been documented for many things - the global explosion, the police conflicts, and even the recreational drug use at protests.
However, none of the media coverage has yet to focus solely on the women who demonstrate, more specifically the attractive women.
Until now.
Steven Greenstreet went out one week ago to film all of the hot chicks at the Occupy Wall Street demonstrations in New York after seeing some ladies who caught his eye.
I was watching one video in particular and commented to a friend, 'Wow, seeing all those super smart hot chicks at the protest makes me want to be there,' he writes on his Web site.
And so he went.
The video is a montage of still shots; but some of the women actually agreed to speak their views.
Greenstreet posted the video on a Tumblr page entitled, Hot Chicks of Occupy Wall Street: The Sexy Side of Protesting Corruption.
The original ideas were sophomoric, Greenstreet told IBTimes. It was just about shooting a video of all these pretty girls. But once he got there and started filming, something changed. When I turned the camera on, I started hearing some of the sweetest most optimistic political statements I've heard in forever. I'm kind of a cynical guy ... this is the first time in a long time I felt like things were going to happen for the better.
It was a truly uplifting experience for Greenstreet, and he hoped his footage would make people feel the same.
But it did not.
Obviously I think the initial reaction was a knee-jerk reaction, said Greenstreet, who soon faced a maelstrom of anger and criticism.
The initial string of commentary that came out two or three days ago came from self-proclaimed feminism sites, he said. Jezebel proved to be one of the sites that posted its disapproval.
The story was also covered by Salon (which said he was just out for publicity) and CNBC (which gave a brief blurb of the superficial aspects of the site).
There were negative comments in Tweet form such as:
@lesslinear: Hot Chicks of Occupy Wall Street makes me want to smash things (namely heterosexual men w video cameras)
@2CowBulls: Just saw your video. I much more inclined to become involved in #OWS now. Sexy girls motivates me more than anything.
@MeFunk: Whatsay you take down your sexist video, issue a formal apology to female protesters, and then I pour hot coffee on you?
Condemnation even came in the form of physical threats. Greenstreet said one responder threatened to track him down and beat him to a bloody pulp. He was forced to create a new e-mail address. Criticism there was off the charts, he noted.
But, over the past 36 hours, the conversation has shifted. Greenstreet has since gotten tons of supportive e-mails from both men and women.
He even heard from the hot chicks in the video.
One wrote to him to say: Just wanted to thank you for capturing the feminine side of the story and let you know that i do not care if you call me a hot chick. It's actually humorous and i love it! To me, it isn't about the words used, its about who is saying them and I can tell you have the best of intentions. I have been called a lady by men that treat me like shit, and a hot mama by men who treat (me) with respect and dignity.
Greenstreet posted this reponse on Tumblr. He has received word from four others as well.
Ive even gotten e-mails and comments from men who never considered protesting or informing [themselves] before this video, Greenstreet told IBTimes.
Greenstreet defends his use of the Hot Chicks title. If you look at how modern media works in a fast-paced instantaneous age ... it's about what is going to get [people] to click on a video or a picture, he said. After we made the video we debated amongst ourselves for two straight days arguing whether we should change the title or not. [My] gut reaction to keep it. If we called it montage of opinions or something not even a quarter of current audience would see it.
And he was right. The title did garner lots of attention. On the first day, the website had 63,000 hits. By the sixth day, that number shot up to 165,000. The video has been played 223,000 times from the site and has been viewed via external embeds 569,000 times.
Greenstreet believes that, ultimately, it was all for the best, despite the hatred spewed in his direction.
Now, both men and women are hooked into debates about not only Hot Chicks who Occupy Wall Street but also women's rights in general.
In a lot of ways I think the video transcended itself. It's a great picture, an honest picture, and out of it came other conversations.
Hot Chicks of Occupy Wall Street from Steven Greenstreet on Vimeo.
© Copyright IBTimes 2023. All rights reserved.