Houston Rockets To Seek LaMarcus Aldrige, Kevin Love In Free Agency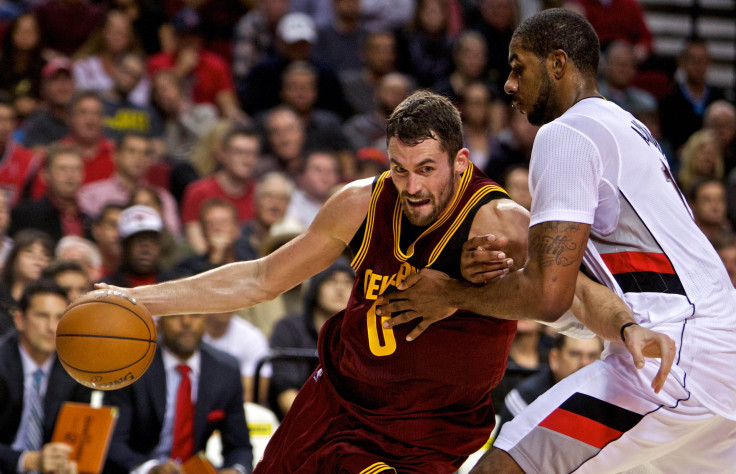 The Houston Rockets are chasing top free agents in the 2015 offseason, AND LaMarcus Aldridge of the Portland Trail Blazers and Kevin Love of the Cleveland Cavaliers are two of the primary targets for the team that already has James Harden and Dwight Howard.
Marc Stein of ESPN reported the newest development on NBA free agency early Thursday, a day before the 2015 NBA Draft.
"Hearing ever-aggressive Rockets are plotting ways to try to crash this summer's free-agent chases for both Kevin Love and LaMarcus Aldridge," the ESPN writer stated on Twitter.
Both Love and Aldridge are unrestricted free agents, which means that they are free to sign with any NBA team and the Cavaliers and Trail Blazers, respectively, will have no choice but to let them go to another NBA team.
However, both the Cavs and Blazers can potentially give them the most money in their respective deals, which is expected to be the maximum salary or near it. Both teams can also do a "sign-and-trade" if they want to get something in return in any Love or Aldridge deal.
Despite already paying maximum money to Howard ($22.3 million) and Harden ($15.7 million), the Rockets can potentially go below the salary cap if they can unload a player or two this offseason.
Stein added in another tweet that the Rockets are likely to part ways with power forward Terrence Jones during Thursday's draft to make room in their salary cap space.
Either Love or Aldridge would be a good fit alongside the Rockets' core as both can stretch the floor and play the power forward spot.
© Copyright IBTimes 2023. All rights reserved.