How Amal Clooney Is Helping Fight ISIS In The Maldives: Former Leader Mohamed Nasheed Calls For International Sanctions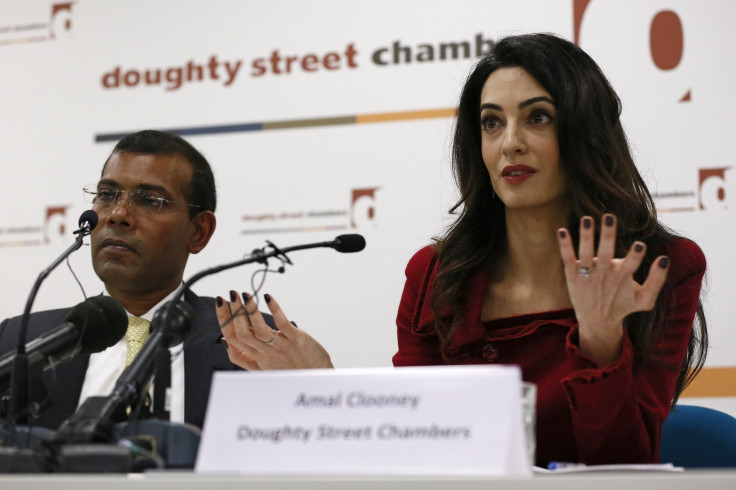 The first democratically elected president of the Maldives sought to highlight human rights abuses in his homeland Monday with the help of lawyer Amal Clooney during a news conference in London where he called for sanctions against Maldivian government figures. Former Maldivian President Mohamed Nasheed described being held in solitary confinement after he was forced from office and the need for political reform in the Indian Ocean nation.
"Sanctions imposed can easily be rolled back. But unless they are imposed, President [Abdulla] Yameen will have no incentive to take further action,­" Nasheed told reporters in London in his first comments since being released from prison. Yameen has been president of the small island nation since 2013, when he defeated Nasheed at the ballot box.
Nasheed was released last week to seek hospital care in the U.K. He was given a 13-year prison sentence on terrorism charges in March at the end of a trial that drew international condemnation. The United Nations, the United States and human rights groups have said Yameen's government did not follow due process and that the case was politically motivated.
Nasheed had permission to leave the Maldives for 30 days for treatment for his back, but he indicated Monday that he would not return before the deadline. He reunited with his wife in London last week.
Terrorist Attacks and Threats in Maldives | FindTheData
Clooney, the wife of activist actor-director George Clooney, said last week that Nasheed's arrival in London had brought him "one step closer to justice­" but there was more work to be done. "We cannot forget that he has not been pardoned in the Maldives. He has not been given permission to run in the next presidential elections," she said Monday. "He was also not the only political prisoner behind bars in the country. You have, at the moment, two former defense ministers, one former vice president, one former deputy parliamentary speaker and leaders of every opposition party in prison in the Maldives. You also have a further 1,700 people who are either facing charges or currently being prosecuted by the authorities in the Maldives for simply peaceful political activity and speech."
Nasheed is being represented by Clooney, who said he was released only after the threat of action. Ben Emmerson, another member of Nasheed's legal team, said the Maldives had become a "hotbed of fundamentalism and terrorism."
More than 200 people from the Maldives have joined the Islamic State militant group, the highest number per capita of any state in the world, in recent years. "It is only a question of time before the Maldives witnesses an incident comparable to the tragedy that occurred on the beaches of Tunisia last year," he said. A beach hotel in Tunisia was attacked and 38 tourists, mostly British, were killed in July by Islamic State supporters.
Nasheed served three years as president before what he describes as a gunpoint coup and what the government claims was a voluntary resignation, NBC News reported. Clooney has told reporters "democracy is dead" in the Maldives as political repression, abuse of women and jihadism are on the rise.
© Copyright IBTimes 2023. All rights reserved.
FOLLOW MORE IBT NEWS ON THE BELOW CHANNELS