How Bryce Harper's Free Agency Could Be Affected By Nolan Arenado, Manny Machado Contracts
As Bryce Harper continues to search for a record-breaking contract, two other MLB stars have already inked historic deals. Manny Machado signed the biggest free-agent contract ever by getting $300 million over 10 years from the San Diego Padres, and Nolan Arenado's new eight-year, $260 million contract features an all-time average yearly salary for a position player.
Arenado will make an average of $32.5 million per year over the next eight seasons. His extension kicks in after he plays on his one-year, $26 million contract in 2019, technically giving him a $33.4 million AAV for the new deal.
Machado's $300 million guaranteed is the most money ever given to a player coming from another team. Giancarlo Stanton signed the most lucrative contract in American team sports' history in 2014 when he agreed to a 13-year, $325 million extension with the Miami Marlins. In the following offseason, the Arizona Diamondbacks gave Zack Greinke the highest AAV for any baseball player at $34.4 million.
What does this all mean for Harper? Agent Scott Boras has been aiming for his client to set records in the 2019 offseason, and these latest contracts might only increase the outfielder's asking price.
If Harper is looking to break every single record—from total guaranteed money to average salary for any position—he won't settle for less than a $345 million contract over 10 years. There are some insiders that believe Boras is still asking for a contract worth at least $350 million.
What about a historic contract that only gives Harper the highest AAV for a position player? That could mean a 10-year, $335 million deal, given the value of Arenado's extension. One report claims the Philadelphia Phillies are prepared to pay Harper $330 million.
Maybe $326 million over 10 years would get the job done. That's more than Stanton got. It would make Harper's AAV $32.6 million, putting it just ahead of Arenado's average salary from 2019-2026.
Harper's extended free agency has raised the question of whether or not anyone but Philadelphia is really willing to pay the outfielder more than $300 million. It's conceivable that Harper could accept a $301 million deal to ensure his contract is larger than the one Machado signed.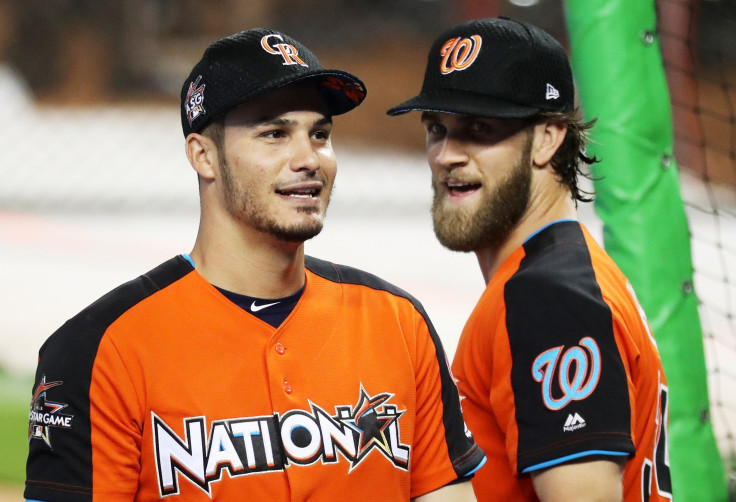 Then you've got the outside chance that Harper will leave tens of millions of dollars on the table to sign a deal that's shorter than 10 years. The presence of teams like the Los Angeles Dodgers and San Francisco Giants—they reportedly won't make a decade-long commitment—in the race for Harper has raised the possibility of the free agent signing a short-term deal.
While that possibility remains unlikely, Harper could make more money in the long run by signing a contract that only lasts a few years. The six-time All-Star is young enough that another mega-deal would be waiting for him if he performs like an elite player for the next few seasons.
You can bet that any short-term deal would include a monster yearly salary.
It might take something like $105 million over three years or $140 million over four years for Harper to spurn a 10-year offer. Settling for seven years might mean getting at least $235 million. An eight-year contract could conceivably guarantee Harper $270 million and include vesting options, similar to the offer that the Chicago White Sox made to Machado.
Harper and his suitors have plenty of ways to get creative if the outfielder is determined to sign a contract that's unlike one MLB has ever seen.
© Copyright IBTimes 2023. All rights reserved.