How To Christmas Shop On A Budget: 11 Tips For Holiday Shopping That Won't Break The Bank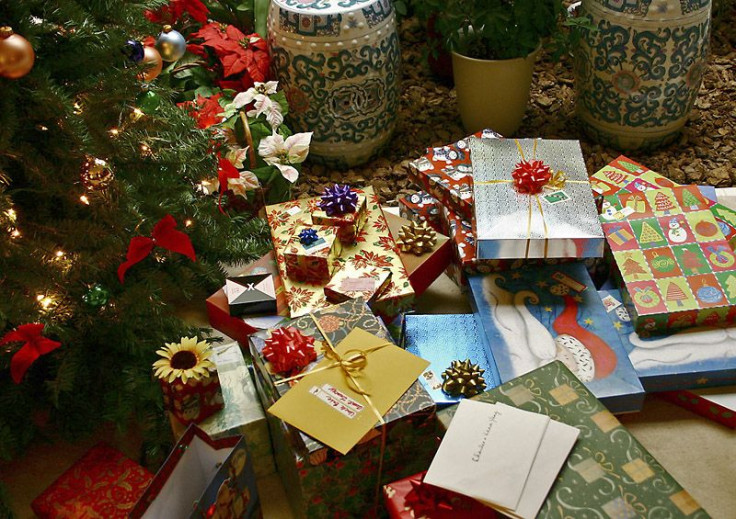 Earrings for Mom, a tie for Dad, something for your mother-in-law, and don't forget a secret Santa gift for the office gift swap. 'Tis the season for giving, but even largesse has a price. Small gifts here and there can quickly snowball into a huge financial burden – and Santa, like a financial adviser, considers fiscal irresponsibility a surefire reason to be put on the naughty list.
It doesn't take a large present under the tree to say "I love you." Instead of squandering savings on extravagant gifts, get smart about holiday shopping. Here are 11 tips on how to Christmas shop on a budget.
1. Set a budget in advance – and stick to it. Err on the side of moderation. Ask yourself: How much can I afford to spend this holiday season? Failing to set realistic spending limits can lead to unbridled shopping sprees – and debt.
It helps to get specific, financial experts suggest. "People often have a rough idea of the total amount they want to spend, but they don't know the specifics," Edward Jones financial adviser Margaret Yang, in Toronto, told Canadian Living. How much will you spend on gifts? How about decorations, travel and food? Set limits for each, and find the discipline to stay within them.
2. Prioritize your gift list. There will always be people in life who deserve our generosity. But not everyone should be considered equally, and that's OK. When shopping on a budget, consider who is at the top of the list and work backward. Immediate family will probably come first, followed by close friends, relatives and colleagues. Make a list of potential gifts for everyone and keep track of prices.
3. Avoid impulse buys. It's easy to get swept up in the holiday spirit when everything in the mall screams Christmas cheer and so many items are discounted. But don't be fooled into buying things you don't need. Good Housekeeping suggests reining in your "inner spendthrift" to avoid what researchers have dubbed the "shopping momentum effect" – the thrill of buying one item can fuel more, usually unnecessary, purchases. Don't stray from the list!
4. Give the gift of charity. Consider donating $25, $50 or $75 to a charity in someone else's name. It's a great way to do something selfless this holiday season while avoiding all the temptations that come with perusing the mall.
Shopping for ways to give back can be fun, too. "A new breed of charities offer boutique-ish websites with lots of customization," notes O Magazine. "You can shop your heart out browsing dollar amounts and causes for just the right fit." Check out this list of vetted charities to donate to, or visit charitynavigator.org or charitywatch.org.
5. Find hidden Amazon discounts. Money Saving Expert points out that online retail giant Amazon has some great bargains for those who know where to look. The online Amazon Discount Finder tool can help bargain hunters find savings of up to 80 percent on some items.
6. Eliminate superfluous expenses. Does every gift really need a bow or expensive wrapping? Do gift bags have to have bells on them? Ditch the embellishments and streamline your giftwrapping. Really, most of it ends up in the trash, anyway.
7. Christmas is not the time to go above and beyond. "I could write pages and pages of tips, but doing Christmas on a budget can be boiled down to just one simple tip: Keep it simple," one Home-Budget-Help writer recommends. "A frugal Christmas is still Christmas."
When shopping for kids, keep in mind that they, unlike many adults, don't look at price tags when considering something's worth. Despite the ubiquity of video games and iPhones, most young kids would be happy to get a colorful set of markers or some sidewalk chalk. Visit the nearest dollar store – they won't know the difference.
8. Make your own Christmas gifts. Going homemade can be a great way to add a personal touch to your holiday shopping list. Put those years in art school to use. Or, maybe you've always wanted to pick up quilting, candle-making or even baking – the holidays are a great time to pursue new ventures!
9. Check out Fiver.com. The website lets online shoppers browse for personalized items by linking them up with artists all over the world. Want a unique caricature drawn of your brother? Have an idea for a comic strip you'd like to see in print? A song you want sung and recorded by a professional singer? Fiver has it all.
The site gets its name from the simple fact that everything starts at just $5, although adding things like color and 3D effects can cost extra.
10. Kill two – or three or four or five – birds with one stone. "We get one big present for the whole family instead of small presents for each member," one holiday shopper told the U.K.'s Baby Centre. "We have 10 (yes, 10) children and are planning to buy a Wii system this year. This way everyone gets a share in a really amazing gift."
11. Plan for next year by taking advantage of post-holiday sales. The weeks after Christmas are the best time to stock up on things like wrapping paper, tableware and decorations, as many retailers trying sell off their holiday stocks will often offer big discounts on holiday trimmings.
© Copyright IBTimes 2023. All rights reserved.