How Does The British Military Split With An Independent Scotland?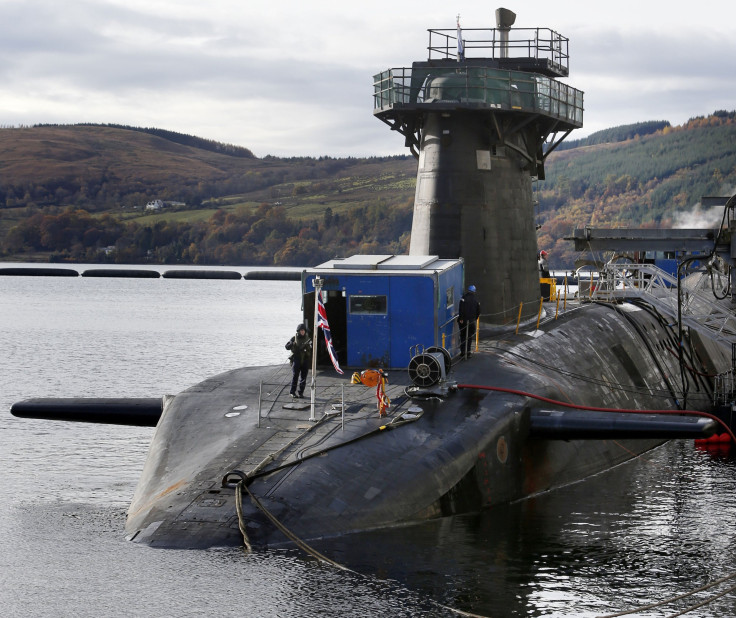 With a little more than a week to go before the referendum on Scottish separation from the United Kingdom, a "yes" vote by the Scottish people would see major institutional and political changes to the United Kingdom, not least of which would be sweeping changes to the country's military, one of the world's biggest and one of only eight officially known to be armed with nuclear weapons. If Scotland votes for "yes," it wants, according to the Scottish National Party, which has led the Yes campaign, 8 percent of the U.K.'s military assets, primarily naval ones, a share based on population.
Crucially, however, Scotland no longer wants to host Britain's fleet of nuclear submarines and weapons, a long-term SNP policy goal. The British government has already called the split of U.K. military assets laughable.
"An independent Scotland's claim on the Royal Navy would greatly weaken the carefully evolved whole, as bases, infrastructure, procurement, spares, personnel and training face a carve-up," First Sea Lord, Adm. Sir George Zambellas, told the Daily Telegraph earlier this year. Independence would "damage the very heart of the capabilities that made up the Royal Navy and the Royal Marines," the British navy's top officer said.
The most recent polls have shown a surge in support for the "yes" campaign, with one poll putting the nationalists ahead 51 percent to 49 percent last week, compared to a 22-point lead for the "no" just a month ago.
While Scotland wants to have its own military, operating on a budget of about $4.1 billion and with a strength of about 15,000 people plus 5,000 reservists, the U.K. government said that kind of spending would not be enough to establish and maintain a military of that size. By current U.K. Treasury statistics, Scotland contributes around $4 billion in defense spending per year, but only $3 billion is spent in Scotland, the independence camp says.
The SNP wants to take two frigates, a command platform, four mine-countermeasure vessels, two offshore patrol vessels, and six smaller patrol vessels and auxiliary support ships. It also wants as many as 12 Typhoon fighter jets and six Hercules C-130Js, and the creation of an Army brigade made up of British inventory. The independence camp's defense plan would also see the British submarine base at Faslane become joint headquarters for the newly formed Scottish armed forces.
Scottish personnel serving in the U.K.'s armed forces may be given a choice to move across to the Scottish force. However, that option does not appear to be popular in Westminster.
"There would be a consequent loss of capability, particularly in the short term," a report from the U.K. parliamentary Defense committee said. "The rUK [rest of United Kingdom] government would face a difficult decision about how to manage this shortfall when the financial resources available to do so would be reduced to a similar degree. This raises the very real prospect that the rUK would face the same level of threats to its defense and security as the U.K. faces today, but with armed forces which were less capable and resilient."
But more importantly for the U.K., having to move its four Vanguard nuclear submarines based at Faslane and the nuclear weapons based in Culport would represent a logistics nightmare and jeopardize Britain's standing within NATO. As things stand, the U.K. wants to base its entire submarine fleet in Faslane, including the new Astute class subs, but should Scotland vote for independence, the submarines would stay in Plymouth and Portsmouth, England. The U.K.'s nuclear ballistic missile-carrying subs would be homeless because the facilities to host them do not exist in the rest of the U.K.
In a recent letter to British papers, Gen. Sir Richard Shirreff, who has recently stepped down as NATO's deputy supreme allied commander for Europe, said Scotland's proposal to eject the submarines and weapons from the country would be "amateurish, unrealistic and lacking any clear strategic purpose," as well as "dangerous." It would, Shirreff said, "leave Scotland, the U.K. and NATO weakened and less capable of dealing with the threats of today and tomorrow," he said.
© Copyright IBTimes 2023. All rights reserved.