How Donn Davis' Midas Touch Helped PFL Capture Second Largest Market Share In MMA
KEY POINTS
PFL continues to strengthen its hold of the MMA market share
Donn Davis feels that there is a huge untapped market being overlooked by other promotions
PFL's roster is another reason behind the promotion's success in MMA
For most companies, getting to the top of the industry is a journey that takes up to decades, even more. Some don't even get to see the summit even after a lifetime of operation.
For the Professional Fighters League (PFL), the journey to the peak of the highly-aggressive mixed martial arts (MMA) industry took roughly just three years.
Officially founded in 2008, PFL took the fastest rising sport in the world and presented it in a way that most--if not all--sports fans can appreciate and enjoy.
Through its one-of-a-kind season-style format that features an elimination round, playoffs and finals, PFL revolutionized the way fans and even the fighters themselves see and experience MMA.
At the end of the season, a champion is crowned and awarded a million-dollar purse. In the last two seasons, PFL has produced a number of stars, champions, and millionaires.
With the current 2021 season nearing its end, a new batch of champions will soon be crowned, marking the conclusion of a year full of surprises and memorable moments.
Now, PFL holds the second-largest market share in MMA, alongside the UFC.
For PFL, as with all sports leagues, its stars are without a doubt the main draw. The promotion has banked on the likes of Kayla Harrison, Ray Cooper III, as well as big-name signings like Rory MacDonald, Anthony Pettis, Fabricio Werdum and Claressa Shields to draw in viewers.
But while the stars and the sport itself are what carry an organization, a lot of its success can also be credited to how it was put together.
PFL has a world-class collection of talent not just on its fight roster, but also its executive team. One of the biggest reasons for that is PFL founder and chairman Donn Davis.
Davis has a wealth of experience in sports, entertainment, and tech, having served as an executive for the likes of the Chicago Cubs, AOL and Time Warner, while also founding companies such as Revolution.
He also came on as a founding investor for Team Liquid, one of the biggest eSports franchises in the world, even before the current eSports boom.
Every endeavor that Davis has touched or been involved in has turned into gold, and now, he has brought his Midas Touch to the MMA world with the PFL.
"There are 550 million MMA fans around the world, the most underserved fan base," Davis shared with www.sporttechie.com. "The UFC is a great product, but there are only 40 fights a year. Heck, there are 6,200 basketball games a year, 3,000 soccer matches, and just 40 MMA premium events for those fans. That's why PFL is already growing very, very fast."
Apart from tapping into a format that even non-MMA fans can appreciate, Davis has also brought his disruptive genius to PFL, introducing a number of innovations to the league including the proprietary SmartCage technology and the ghost cam.
The SmartCage allows fans access to live and real-time statistics as the fight happens, which also opens doors for betting opportunities.
"It all becomes real-time gambling prop bets. What's the hardest punch in this round? Will this Kayla fight end in under one minute? Will it be a takedown? We're introducing kick speed in week four as a prop bet," Davis explained to MMAJunkie.com.
"Never been done before. It's a series of motion cameras and chips, so everything is about understanding and appreciating, or engagement in real-time prop bets. We'll be the first-ever in combat sports to have real-time prop bets on a whole host of things. Not just winning and losing, but speed, heart rate, early ending."
The ghost cam, meanwhile, brings viewers closer to the action.
"PFL is a made-for-TV product. We're focused on the 10 million people watching, not the people attending, therefore everything about our show is optimized for TV. If you haven't seen it, the innovations we've released, even this year, have wowed people," he stated.
"We've even done something called the ghost cam, which makes the cage disappear so when people are fighting next to the cage, you just see the fighters, not the cage. We've introduced fan social voting. You see after each round how global social media is voting the winner of this round. So if you haven't seen this TV product, you've got to check it out. You haven't seen anything like it in MMA or combat sports."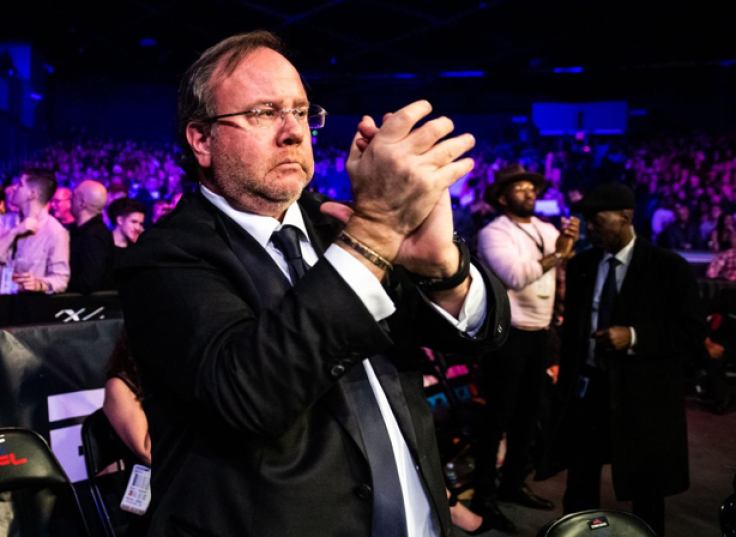 These innovations have led PFL to partnerships with some of the biggest media companies in the world, as well as some of the leading betting outfits.
With a product that's seen across 160 countries and with a presentation and experience unlike any other, there's no question that Davis has turned PFL into gold.
© Copyright IBTimes 2023. All rights reserved.
FOLLOW MORE IBT NEWS ON THE BELOW CHANNELS