How Many Muslims Live In America And Europe? Study Finds People Hugely Overestimate Numbers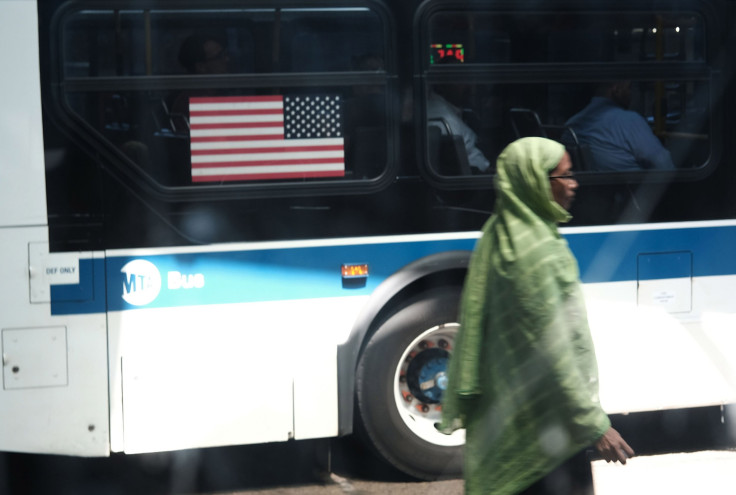 People in both the United States and Europe greatly overestimate the number of Muslims living in their countries, a survey published on Wednesday has indicated. In the U.S., people believe that the Muslim population is 17 percent, whereas in reality it is just one percent, according to the Perils of Perception Survey conducted by U.K.-based research organization Ipsos MORI.
The U.S. was far from alone in its ignorance on the issue. Indeed, the study, which involved interviews with more than 27,000 people across 40 countries between September and November this year, showed France was even guiltier of inflating the number of Muslims.
Those interviewed believed Muslims represented 31 percent of the country's population when it is actually 7.5 percent. Muslims have been a hot-button issue in France of late, with a number of town mayors banning burkinis, even in defiance of a ruling in the country's highest administrative court that they do not have the right to do so.
Across Europe, the issue of Muslim immigrants and refugees has also been prevalent. In Germany, Chancellor Angela Merkel last week called for burqas, which some Muslim women wear to cover their entire bodies, to be banned "wherever it is legally possible."
And Germany, as well as Italy and Belgium, had a similar discrepancy to the U.S. in its estimate of the Muslim population to the U.S.
Muslims were also thrust into the spotlight during the U.S. presidential election campaign. While on the campaign trail, President-elect Donald Trump called for a ban on all Muslims entering the country and for a registry to be set up of Muslims already in the U.S.
Meanwhile, hate crimes committed against Muslims surged by 67 percent in 2015, according to data released last month by the FBI. In the wake of Trump's election victory in November, a further spike in incidents of hate, many targeting Muslims, has been reported by groups such as the Southern Poverty Law Center.
In all, the Ipsos MORI study, which in some cases also used data from the Pew Research Center, found that 38 of the 40 countries overestimated their Muslim population. Only Indonesia and Turkey, countries which have majority Muslim populations, underestimated the proportion of Muslims in their country.
The survey also asked people what percentage of their country's population they expected to be Muslim in 2020. Again France came on top in terms of overestimating, with respondents stating that it will be 40 percent when it is expected to be only 8.3 percent. The U.S. was off by a hefty 21 percent, thinking it will be 23 percent rather than the expected 1.1 percent.
© Copyright IBTimes 2023. All rights reserved.