How Train Derailments Happen, And How Technology Might (Or Might Not) Stop Them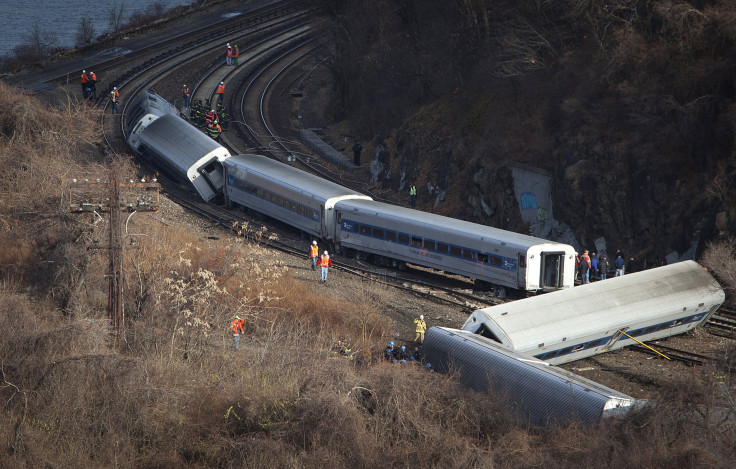 After a Metro-North railroad train jumped off the tracks near where the Harlem River meets the Hudson River in the Bronx, New York City, on Sunday morning, the two most obvious questions are: How did it happen, and what can we do to stop it from happening again?
No official cause for the derailment has been released yet, and the investigation could take at least several days. It appears the train was going too fast when it hit a sharp curve near the Spuyten Duyvil stop on the Hudson line. This prompted the operator to "dump the brakes," a last-resort measure that releases air from the train's brake lines and engages all the emergency breaks for every wheel on every car, according to an anonymous Metropolitan Transit Authority official quoted by the New York Times.
Derailment can be caused by any number of factors. From January to September 2013, the Federal Railroad Administration reports 924 train derailments. The most common major cause was some form of track problem (388 cases) – such as when a crosstie loosens, widening the gauge of the rails such that the train's wheels no longer line up with the tracks. Next to track problems, the most common cause of derailment in freight and passenger trains in the first nine months of 2013 was human error (286 derailments).
A 2012 analysis of major train derailments printed in the Transportation Research Record found that broken rails or welds are the leading derailment causes on main tracks, while human error tends to be more prevalent in train yards or on siding tracks.
"In general, at derailment speeds below 10 mph, certain track and human factor causes—such as improper train handling, braking operations, and improper use of switches— dominated," University of Illinois at Urbana-Champaign researcher Xiang Liu and colleagues wrote. "At derailment speeds above 25 mph, those causes were nearly absent and were replaced by equipment causes, such as bearing failure, broken wheel, and axle and journal [end of the wheel axle] defects."
Regular rail inspection and monitoring has cut derailments by more than two-thirds since the 1970s, according to Slate. But Congress wants to try and go even more high-tech to bring the numbers down further. The Rail Safety Improvement Act of 2008 mandates that much of the U.S. railroad system implement what's called "positive train control" technology by 2015.
Positive train control (PTC) is a broad term for a system that monitors and controls train movements. Often this means using GPS navigation to pinpoint a train's location and speed, and devices that can automatically slow the train if needed. The primary goal of PTC is to prevent train collisions, but they can also work to prevent derailments caused by excessive speed.
"PTC systems vary widely in complexity and sophistication based on the level of automation and functionality they implement, the system architecture used, the wayside system upon which they are based (e.g., non-signaled, block signal, cab signal, etc.), and the degree of train control they are capable of assuming," the Federal Railroad Administration says.
PTC has some technical challenges, and according to a 2010 report from the U.S. Government Accountability Office, meeting the 2015 deadline may not be possible. But most railroads are working to meet the deadline just the same. In November, the MTA awarded a $428 million contract to Siemens Rail Automation and Bombardier Transportation Rail Control Solutions to install PTC on the Metro-North and the Long Island Rail Road.
Could PTC have stopped Sunday's derailment and saved lives? It's not yet clear if it would have helped in this case. And PTC is hardly a magic bullet -- federal investigators said that PTC would not have prevented a May collision between two Metro-North trains near Fairfield, Conn., that injured 60 people.
"Positive train control is a technology that prevents two trains, traveling on a single track, from colliding with one another. The Metro-North trains involved in this accident were traveling on two separate but parallel tracks," the National Transportation Safety Board said in May. "The collision occurred after the eastbound train derailed. Because the trains were not traveling on a single track, it is not believed that PTC would have prevented the accident."
FOR FREE to continue reading
✔️ Unlock the full content of International Business Times UK for free
offer available for a limited time only
✔️ Easily manage your Newsletters subscriptions and save your favourite articles
✔️ No payment method required
Already have an account? Log in
© Copyright IBTimes 2023. All rights reserved.