How The US Subsidizes Cheap Drugs For Europe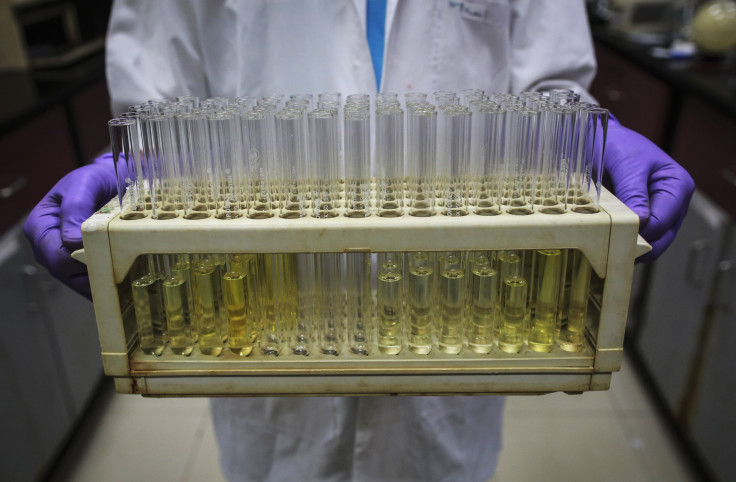 The price of a medical miracle varies by country. Imatinib -- also known as Gleevec -- was hailed as a miracle cure to treat chronic myeloid leukemia, a rare type of cancer, upon the drug's approval in 2001. In the U.S., a year of treatment cost $92,000 in 2013. Everywhere else in the world, including in developed countries, it cost far less. Germany's price tag was $54,000. In the U.K., it was $33,500 for annual care.
Medicines in the U.S. frequently cost significantly more than the same versions in other advanced countries. The ongoing scrutiny over drug pricing systems, in the spotlight this week following the decision of Turing Pharmaceuticals to raise the price of its drug Daraprim from $13.50 per pill to $750, has reignited debate over price controls in the U.S. But what often goes overlooked in these discussions is the fact that pricey medicines in the U.S. actually subsidize research and development for the rest of the world, and for all the proposals to lower drug prices in the U.S., a solution to this particular imbalance is nowhere in sight.
"It's not fair that people in France pay a lot less for drugs than we do here. But there's not much we can do about it," Mick Kolassa, founding partner of Medical Marketing Economics, a consulting firm based in Mississippi, said.
In Europe, drug prices are set by governments, not by pharmaceutical companies the way they are in the U.S. On average, the difference between the price of one drug in the U.S. and the same drug in France, Germany, Italy, Spain and the U.K. was 50 percent, an analysis by the consulting firm McKinsey has found.
"U.S. consumers are in fact subsidizing other countries' public health systems, at least with respect to drug pricing," Jacob Sherkow, an associate professor at New York Law School, said.
These price discrepancies and their implications are well known throughout the industry but rarely discussed outside of it. Pharmaceutical companies have long defended the high price of drugs as necessary to pay for the research and development of new drugs, but the differences in pricing essentially means that consumers in the U.S. are contributing more than those in other countries. The U.S. accounted for 46 percent of global life sciences research and development--the vast majority of which is in biopharmaceuticals--according to the December 2013 issue of R&D Magazine.
"The U.S. is the global leader in biomedical innovation," Mark Grayson, a spokesman for PhRMA, a pharmaceutical industry trade group that represents many of the world's biggest drug companies, said in an email. "The research is for medicines that will be sold in the U.S. but obviously will be sold around the world," he added.
This imbalance can certainly be perceived as other countries' freeloading, Kolassa, a former director of pricing and economic policy at the drug company Sandoz, said. He recalled negotiating drug prices with foreign governments, some of whom refused outright to buy certain drugs if they were priced too high, even if doing so reduced contributions to R&D. "They knew the U.S. would cover it," he said.
Rafi Mohammed, the founder of Culture of Profit, a Massachusetts-based consulting firm, said the differences in drug prices should raise larger questions about how to finance pharmaceutical R&D, which should be considered a common good. He added, "Every country needs to contribute in some fair fashion to this pool."
The question is, how?
The R&D Debate
Although drug companies insist they need to charge high prices in order to fund R&D, critics point to exorbitant profits and executive pay at pharmaceutical companies as proof that drugs are simply overpriced and that the claim of needing to fund R&D is merely a front. For instance, in 2014, John C. Lechleiter, Eli Lilly's chairman and CEO, earned more than $14 million in total compensation, including a salary of $1.5 million. Several other top executives at the company also took home high salaries, according to its 2014 annual report.
Drug companies could cover the costs of the same research by lowering prices—companies would simply have to accept lower profits, against the will of shareholders and investors, and lower executive compensation, critics say. Some also point to excessive sales and marketing costs as pushing up drug prices—and sometimes even exceeding spending on research and development.
The average cost of developing a new drug ranges from $800 million to $1.2 billion and takes an average of 10 to 15 years from initial discovery to being delivered to the patient, according to the Indiana-based drug company Eli Lilly. In 2014, the company had more than $19.6 in revenue, of which $4.73 billion, or 24 percent, went to R&D, according to its 2014 annual report.
"We believe our long-term competitive success depends upon discovering and developing (either alone or in collaboration with others) or acquiring innovative, cost-effective human pharmaceutical and animal health products," Lilly noted in the annual report.
To Kolassa, popular outrage over drug pricing can be partially explained by a lack of understanding that drugs simply cost money. "We've got a real problem, that people want drugs to be free but don't understand that the new ones only come out of the old ones," he said. "We tend to not appreciate the value of pharmaceuticals," he added.
As a result, whether pricing structures are fair or not, the fact that other developed countries pay less for drugs has another consequence that is often overlooked: "It limits the availability of new drugs," Kolassa said.
No Solution
Many proposals to lower drug prices fall into two camps: increase government regulation, or develop a single payer system. U.S. Senator Bernie Sanders and Democratic candidate Hillary Clinton have both unveiled proposals to lower drug prices, but experts were skeptical that any politically feasible solution to address climbing drug prices, much less balance out them out across the developed world, exists.
"At the very least, there's not a great solution other than completely upending and gutting the healthcare system that we have today," Sherkow, of New York Law School, said. It would be all but impossible for the U.S. to haggle with other countries over drug prices, he pointed out, while the option of allowing the U.S. government to negotiate prices with drugmakers was also politically unlikely.
Even if European countries were to raise their prices—as Eli Lilly's CEO has openly called for—that wouldn't automatically decrease prices in the U.S. Meanwhile, drug companies have no motive to lower drug prices in the U.S.
"The problem is right now, the system is such that a company that sets a low price is not going to be rewarded for it—it's going to be punished for it," Kolassa said, noting that any company that lowered prices would face backlash from investors and stockholders. Instead, he said, "the incentive in the system is to keep going higher and higher until the whole thing falls apart."
© Copyright IBTimes 2023. All rights reserved.