Illinois Tornado Update: Fairdale Residents Return Home To Assess Destruction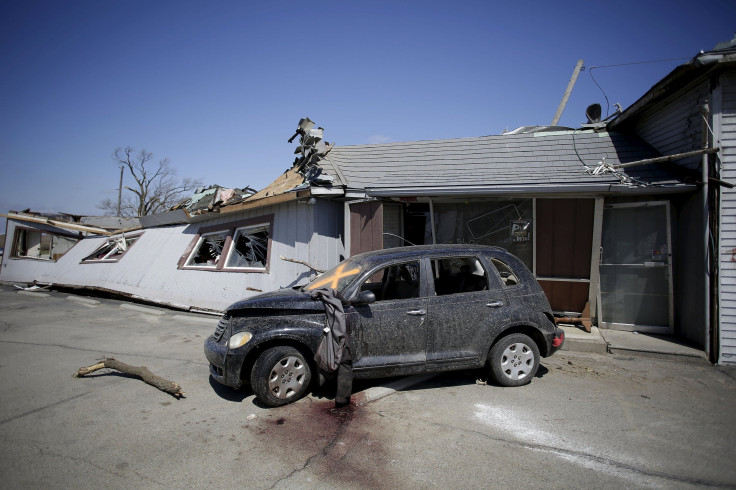 Still in a state of shock two days after a tornado twisted its way through their small farming community, residents of the northern Illinois town of Fairdale were cleared by local authorities to return to their homes Saturday morning, when they assessed the damages and retrieved some of their belongings.
"I thought my parents were dead," Adam Davis, 32, whose parents' house was badly damaged by the tornado, told the Associated Press. Davis, who managed to get to his parents in time to evacuate them, returned to Fairdale to find his childhood home with its roof ripped off and full of debris. "It's not necessarily the mementos yet; it's the essentials for now."
Although dramatic footage of the tornado roaring through Fairdale was shared by multiple media outlets throughout the Midwest, such as KFOR-TV in Oklahoma City, none of the town's returning residents could truly be ready for the magnitude of the destruction.
According to the National Weather Service, eight tornadoes ripped through different parts of Illinois beginning Thursday, with the worst hitting Fairdale, killing 2 and injuring at least 22. The tornado that hit Fairdale and other areas of northern Illinois was given a preliminary rating of EF4 by the weather service.
Tornadoes are rated on a five-point enhanced Fujita tornado damage scale, as noted by the service's Storm Prediction Center. The EF scale measures the effect of a twister -- the higher the rating, the more dangerous and damaging the tornado. According to the scale, EF4 tornadoes have wind speeds of 166-200 mph, which can cause "devastating" damage.
Authorities' preliminary assessment of the tornado-struck area in Fairdale found about 70 buildings either destroyed or badly damaged by the storm, with dozens more also damaged in the nearby town of Rochelle.
© Copyright IBTimes 2023. All rights reserved.