Inconsistencies Prompt Recount In Mexico's Elections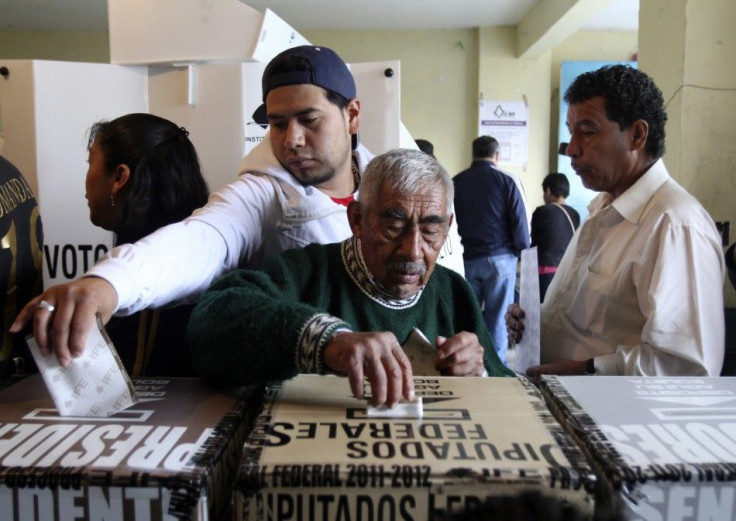 Electoral authorities in Mexico have initiated a recount of roughly half of the votes cast in the presidential election upon finding inconsistencies in the final results.
The initial tally, accounting for 99 percent of the votes, was released Sunday, the day of the election, showing Institutional Revolutionary Party (PRI) candidate Enrique Peña Nieto in the lead with roughly 38 percent of the votes, about six points ahead of runner-up and Democratic Revolution Party (PRD) candidate Andres Manuel Lopez Obrador.
Votes from about 78,000 of the 143,000 polling stations used in the election will be recounted. The results of the recount are expected to be ready by Sunday, Mexico's Federal Electoral Institute (IFE) spokeswoman Ana Fuentes told the Associated Press.
The IFE did not specify in detail what inconsistencies were found in the final results, but the country's electoral law calls for a recount under these circumstances. Other reasons for a recount include if there is less than a percentage point between the top two candidates or if an entire ballot box is filled with votes for the same candidate.
Peña Nieto expressed confidence that his victory would be upheld by the recount.
I trust that the final tally will be consistent with the preliminary count, he said Wednesday.
Lopez Obrador demanded a full recount, announcing Tuesday that his team had found irregularities at over 110,000 of the polling sites.
Where these things happen, there needs to be a recount of the votes. It is not asking for a favor -- it is asking for the law to be fulfilled, he said.
Lopez Obrador questioned the legitimacy of the elections, accusing Peña Nieto of buying votes, spending beyond campaign limits, and receiving preferential treatment from the media. Lopez Obrador had protested the result of the 2006 election as well, after being beaten by a slim margin.
Suspicion of vote-buying has been fueled by a rush of people redeeming pre-paid gift cards at grocery stores this week. Shoppers said they had received the gift cards from PRI affiliates prior to the election Sunday, and some said they were asked to provide photocopies of their voter ID cards, AP reported.
Such gifts are not banned under Mexico's electoral laws if they are not given under the condition of casting a specific vote and remain within campaign spending limits.
The governing National Action Party, whose candidate Josefina Vazquez Mota placed third in the election, said it had evidence that 9,500 gift cards, worth about $5.2 million, had been purchased by a single party to buy votes for the PRI.
The IFE confirmed that a single unidentified business had made the purchase, but that no direct evidence of vote-buying has been found, though the investigation is ongoing.
© Copyright IBTimes 2023. All rights reserved.