India-Italy Diplomatic War: Why Did Rome Suddenly Send Marines Back To India For Murder Trial?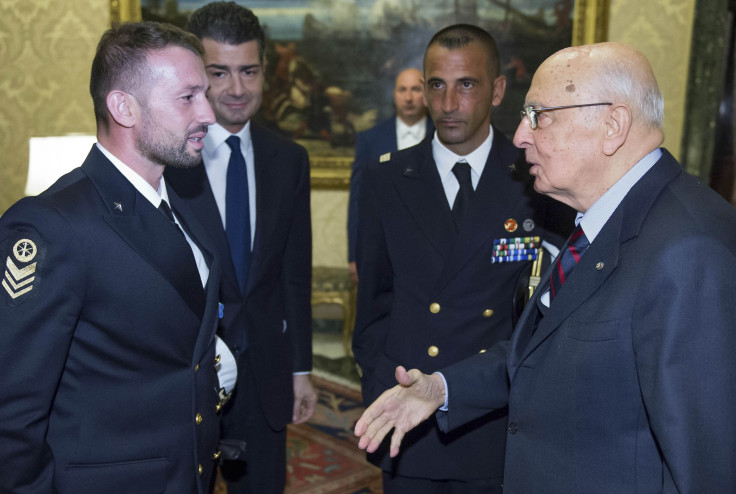 The two marines at the center of a diplomatic storm stretching from New Delhi to Rome have returned to India to face murder charges -- but only after India assured Rome that it wouldn't impose the death penalty if the men are convicted, ending an 11-day impasse.
Salvatore Girone, and Massimiliano Latorre, who were granted permission by the Indian Supreme Court last month to return to their native Italy temporarily to vote in general elections, were detained in Italy by an order of the foreign ministry in Rome.
That decision sparked outrage by the Indian government, which demanded the men be handed over to Indian authorities to face charges that they killed two Indian fishermen off the coast of Kerala last year. While protecting an Italian oil tanker, Girone and Latorre shot the fishermen who they thought were "pirates."
Italian officials claimed that since the alleged shooting occurred in international waters, India has overstepped its legal bounds by detaining the marines on its own soil. In retaliation, the Indian Supreme court barred the Italian ambassador to India, Daniele Mancini, from leaving the country.
Now, this saga has taken another turn -- apparently in favor of Indian authorities.
Girone and Latorre arrived in New Delhi on Friday aborad an Italian military plane, accompanied by the Italian Deputy Foreign Minister, Steffan de Mistura. According to Indian media, the two marines won't be held in custody, that is, "under arrest," although it remains unclear what their exact legal status in India will be. They will, nonetheless, have to face trial for the murder of the two Kerala fishermen.
India's External Affairs Minister Salman Khurshid told Parliament in New Delhi that the Indian government didn't make any deals in connection with the marines' return, and assured Rome officials "this case would not fall in the category of matters which attract the death penalty."
Khurshid described India's relationship with Italy as "valuable" and said this diplomatic snafu didn't "derail" that relationship.
Indian Prime Minister Manmohan Singh, who had earlier talked tough against Rome's attempts to keep the marines in their home country, praised Italy's recent decision to return the two men to India.
Meanwhile, the office of Italy's Prime Minister, Mario Monti, said the decision to return the marines to India came after the two men attended an emergency meeting with Monti and top ministers. Indian media reported that the group included Foreign Minister Giulio Terzi; Interior Minister Anna Maria Cancellieri; Justice Minister Paola Severino; and Defense Minister Giampaolo Di Paola.
La Nazione newspaper of Italy reported that top Delhi officials were also involved in negotiations for the marines' return.
While India may be a celebrating a diplomatic "victory" of sorts, Italian media is outraged by the dramatic turn of events.
According to La Repubblica, the Mayor of Bari (Girone's hometown) Michele Emiliano condemned the Rome government.
"I now entrust our two heroes [marines] to the Indian institutions to protect them," he said.
"I hope that the Republic of India is less clumsy than the Monti government.''
Emiliano also wrote on Twitter: "A hypocritical [Italian] government is trying to end its embarrassment by sending the sailors back to India after exhibiting them as 'free' during the election campaign."
Some have called for foreign minister Terzi to resign.
Latorre's sister, Franca, wrote on her Facebook page regarding her brother's fate: "I am empty, I have no words."
Francesco Merlo, an opinion writer for liberal daily La Repubblica, wrote: "Unfortunately a part of Italy thinks of India as a country of ragged people in exotic costumes, forgetting that it is the world's biggest democracy, a nuclear power, a powerhouse of the global economy … the racialist idea that Indians are savages [was] spread in a vulgar manner by Berlusconi's newspapers."
Merlo added: "It is sad that [prime minister] Mario Monti, who should have shown great responsibility precisely because of his international prestige, should end his tenure with this mortifying foreign policy imbroglio . This was an episode with two acts. In the first we ran. In the second we surrendered without conditions as soon as [India] said 'boo!'. This confirms the prejudice Italy has always faced: that it is a weak nation … with a vain, cowardly captain who jumps off the [tragic ocean-liner] Concordia as it sinks… and a cunning government that plays the bully with India."
Reader's comments in the Italian newspaper La Gazzetta del Mezzogiorno seemed to place more blame on the Rome government for the marines' return.
Michael Monopoli wrote: "Regardless if [they] are found guilty … what I see is that two [marines] were traded as a bargaining chip against the freedom of a diplomat [Mancini] and some Italian entrepreneurs who have invested in India … We [have] become the laughing-stock of the whole world!"
Another reader who gave his name as John said he suspected dirty dealing by both governments.
"It would be of great help for everyone to know the 'details' of this bilateral agreement, not what is shown and commented on by the TV networks," he wrote.
"Nobody wants to lose face neither Italians nor the Indians -- it is a matter of prestige in which none of the parties want to give up."
Yet, another reader, named Sal, said: "Instead of the two marines, I would have sent Monti, and the defense and foreign ministers to India."
© Copyright IBTimes 2023. All rights reserved.