India vs. Australia Cricket 2016: Live Streaming Info, Schedule, TV Channel For 5th ODI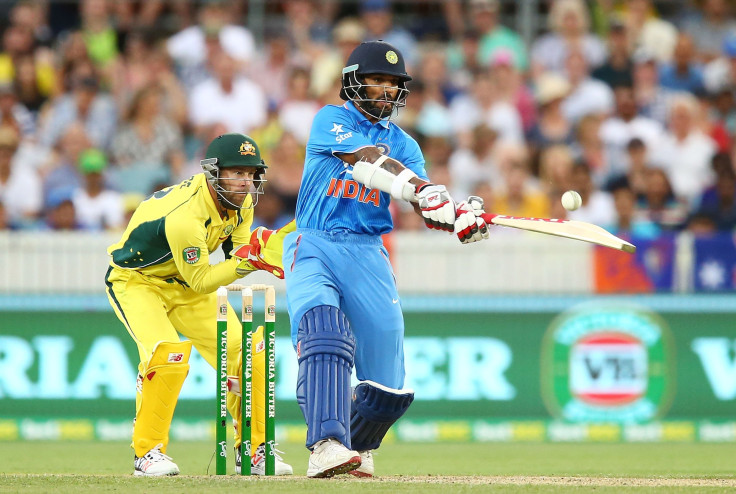 India's cricket team will get a final chance to salvage some pride and morale from their one-day international series against Australia when the teams head to Sydney on Saturday. Australia have won all four matches so far, and now have a chance to complete a clean sweep before the two teams go head-to-head over three Twenty20 matches.
The tourists will be desperate to get something tangible to show for their efforts before then. Defeats Down Under are nothing new for India, but the manner of their losses in this series have been increasingly frustrating. For the first three matches, India batted first and posted competitive totals, only to see their bowlers, perhaps predictably, fail to get the business done on Australian pitches. More painful, still, was the most recent defeat in Canberra on Wednesday.
Batting second for the first time in the series, India were given a sizable total of 348 to hunt down, but looked set to reach that mark, and thus eclipse the highest run chase ever on Australian soil, with something to spare. In the 37th over, India were 277-1 thanks to a mammoth 212-second-wicket partnership between Shikhar Dhawan and Virat Kohli. Then, spectacularly, the innings fell apart.
The remaining nine wickets went down for just 46 runs as India's winless streak in Australia was stretched to 12 matches through all formats. Captain Mahendra Singh Dhoni, who was sent back to the pavilion for a duck to accelerate the collapse, has taken the burden of responsibility.
"I think it was my wicket where it all went wrong," he said afterward, according to the Board of Control For Cricket in India (BCCI). "If you see specifically, that's what my role is in the team -- to make sure we finish off the game well from that kind of position. So I would say my wicket really was the turning point. After we lost those two, three wickets, the game completely turned, but we should have won today's game."
The latest defeat and the manner of it are likely to only increase the pressure on Dhoni's shoulders. Under his charge, India suffered chastening one-day series losses to Bangladesh and on home soil to South Africa last year. The 34-year-old has faced repeated questions over whether he should step away from the limited-overs captaincy as he did from the Test team a year ago. While the BCCI has insisted that Dhoni will remain captain at least until after the World Twenty20, which takes place in India, beginning in March, the need to start building some positive momentum is clear.
"We batted really well tonight," Dhoni added in his post-match verdict. "It also gave a glimpse of what you may see in the T20Is, a lot of flamboyant cricket. At the same time you may say, yes we lost, are we disappointed? We are definitely disappointed, but still, you want to take the positives. And the positive is that if we could have batted better than we did after I lost my wicket, this game could have gotten over in 46th or 47th over. You look at it that way. You don't want to sink into something negative."
A win to wrap up the series schedule in Sydney could also go some way to preventing India from losing second place in the ODI rankings, with both South Africa and New Zealand within striking distance. The situation could hardly be more different for Australia, with the 2015 World Cup winners having opened up a sizable lead at the top of the rankings.
That their series win over India has been achieved with a side that has been overhauled since their World Cup win will make it all the more pleasing. Michael Clarke, Brad Haddin and Mitchell Johnson have all retired from the international game, while all-rounder Shane Watson is on the way out and pace bowler Mitchell Starc is injured. Unsurprisingly, captain Steve Smith has confirmed that confidence will be high going to the Sydney Cricket Ground.
"That win has given us even more confidence and we head to Sydney today with a great opportunity to complete a 5-0 series clean sweep against one of the best one-day teams in the world, which would be a great feat if we can get there at the SCG on Saturday," he told the Cricket Australia website.
Match time: Friday, 10:20 p.m. EST
TV channel: Willow TV
© Copyright IBTimes 2023. All rights reserved.