India vs. Pakistan: Match Time, TV Channel And Live Stream Info For Cricket World Cup 2015 Match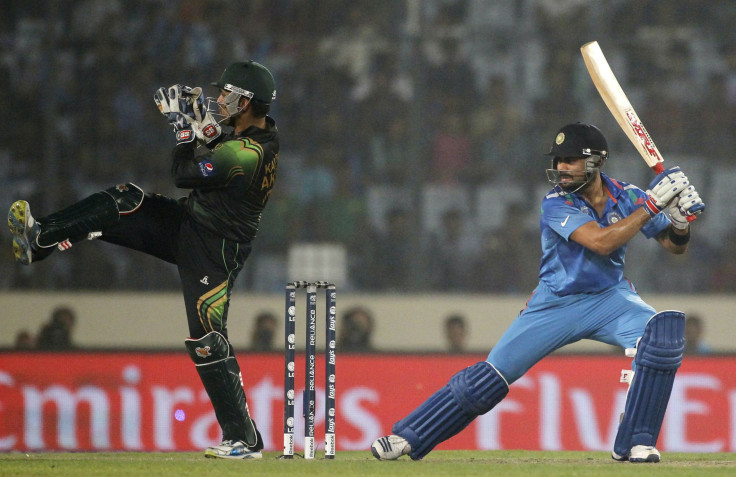 When India and Pakistan take to the Adelaide Oval on Sunday to begin their 2015 Cricket World Cup campaigns, a global television audience of 1 billion is expected to be tuning in, making it the most watched cricket match of all time. The numbers alone make every other sporting rivalry around the world pale into insignificance. For many in India and Pakistan, not lifting the World Cup trophy next month will be tolerated, as long as their fierce rival is defeated.
In terms of history in the showcase event for cricket's 50-over format, the form is emphatically on the side of India. While Pakistan lead the way overall in one-day internationals between the two cricket-mad nations, 72 to 50, in the five times they have met at World Cups -- 1992, 1996, 1999, 2003 and 2011 -- India have come out on top on each occasion. Yet Indian captain Mahendra Singh Dhoni insists that record has no bearing on this latest, highly anticipated contest.
"The only thing that matters is you have to answer a lot of questions regarding that," he said, reports ESPN. "Apart from that, it doesn't really matter."
There will be one notable difference this time around -- for the first time there will be no Sachin Tendulkar. For more than two decades, the batting great was the inspiration for India, not least against their bitterest foes, having been named man of the match in three of the five World Cup matchups between the nations.
India do still come into the tournament as defending champions, and with the star now passed from Tendulkar to Virat Kohli. But his recent form and that of India is less than encouraging. Last month they failed to win any of their four matches in the Tri-Series against Australia and England.
For Pakistan, it will be seen as a real opportunity to get a first World Cup victory over their neighbors and kick start their attempts to win a second title. And, like Dhoni, Pakistan all-rounder Shahid Afridi does not believe history will play a part in Adelaide.
"It is a new match and both teams realize the importance of getting a winning start in the World Cup," he told Geo News channel, according to the Times of India. "So it is should be a very interesting game and what happened in the past should not matter."
Pakistan's preparations for the match have been disrupted by Afridi, as well as seven of his teammates, being fined for breaching a team curfew. Under captain Misbah-ul Haq, Pakistan have displayed mixed form, but they come into the World Cup having secured morale-boosting victories over England and Bangladesh.
"Our wins in the warm up matches has boosted us and we a great mix of experience and youth and I think at the end of the day how we perform and take the pressure will decide what happens in the match," Afridi added.
India and Pakistan are in Pool B of the competition, along with Ireland, South Africa, United Arab Emirates and Zimbabwe.
Match time: Saturday, 10:30 p.m. EST
TV channel: DISH Network, Mediacom and Time Warner Cable subscribers can watch the match via pay per view. More info here.
Live Stream Info: All 49 World Cup matches will be available via ESPN's digital subscription service, costing $99.
© Copyright IBTimes 2023. All rights reserved.