Is India's Narendra Modi Using Cricket Diplomacy To Try And Resume Talks With Pakistan?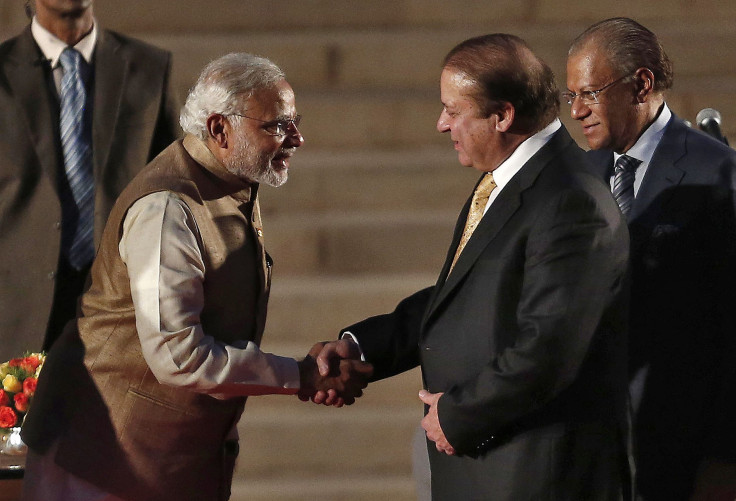 In what could possibly be the first signs of the resumption of talks between archrivals India and Pakistan, Indian Prime Minister Narendra Modi said Friday that the country's Foreign Secretary S. Jaishankar will soon travel to Pakistan's capital Islamabad.
Modi said in a tweet he would be sending Jaishankar to the capitals of all countries that come under the South Asian Association of Regional Cooperation (SAARC), whose members, besides the two countries, include Bangladesh, Nepal, Bhutan, Afghanistan, Sri Lanka and Maldives.
Modi also tweeted that he had called up Pakistan's Prime Minister Nawaz Sharif and the leaders of other SAARC countries, which are participating in the cricket world cup that begins Saturday, to wish their respective teams luck. Cricket is by far the most watched sport in the Indian sub-continent.
Teams from India, Pakistan, Sri Lanka, Bangladesh and Afghanistan are competing in the tournament. India and Pakistan are set to play against each other on Sunday in what is likely to be a keenly watched match between the two traditional cricketing rivals.
Ever since Modi assumed office in May last year after a landslide electoral victory, he has been courting India's neighbors. He had invited all the heads of SAARC countries to his swearing-in and followed this up with visits to Bhutan and Nepal, and to Myanmar, which had earlier sought membership to the bloc.
After Sharif met Modi in New Delhi in May, the two countries had announced the resumption of a foreign secretary-level engagement, which India called off in August, after the Pakistani High Commissioner to Delhi met with Kashmiri separatist leaders.
While it was not immediately clear if Jaishankar's visit would mean resumption of a dialogue between the two countries, it is significant as it comes within weeks of a visit to New Delhi by U.S. President Barack Obama, who was the chief guest at India's Republic Day celebrations on Jan. 26 this year.
The India-Pakistan equation is key to intra-regional trade among SAARC countries. Their rivalry has meant that countries within the bloc have had a dismal record when it comes to trading among themselves. While the annual official trade between the two countries is about $2.7 billion, a 2012 report by the Federation of Chambers of Commerce and Industry estimated that informal trade between the two neighbors stood at $10 billion.
"During 2009-11 the share of intra-regional trade in total world trade of the member countries of SAARC (the South Asian Association for Regional Cooperation) was 5.2%, compared to ASEAN (the Association of Southeast Asian Nation): 26.5; COMSEA (the Common Market for Easters and South Africa): 22.3%; and MERCOSUR (the Southern Common Market): 20.5%," according to an academic paper on trade prepared by the United Nations Conference on Trade and Development.
Moreover, though India accorded Pakistan the so-called "Most Favored Nation" status in 1996, the latter has not reciprocated even after having promised it in September 2012.
© Copyright IBTimes 2023. All rights reserved.