Indian Troops Detained Over 200 Chinese Soldiers Who Intruded Into Their Territory: Reports
KEY POINTS
Chinese foreign ministry said it wasn't aware of "relevant information"
Reports said the face-off was resolved at the level of local commanders
India and China have been locked in a standoff in Ladakh for 17 months
Border skirmishes between China and India worsened last week when more than 200 Chinese PLA men who crossed over to the Indian side were detained by the Indian troops, Indian media claimed.
The face-off happened in the northern region of the Indian state of Arunachal Pradesh, which China claims as a part of southern Tibet, reported Hindustan Times. The Asian giants are also locked in a stand-off along the border at Ladakh despite several rounds of diplomatic and military dialogues.
The latest face-off that lasted for a few hours was resolved at the level of local commanders. "Some Chinese soldiers were detained for a few hours and let off after the issue was resolved at the ground level as per established protocols between the two countries," The Hindu quoted an unidentified source in the Indian defence establishment.
However, a Chinese foreign ministry spokesperson Friday said he wasn't aware of "relevant information" on the reports of the detention of troops.
"I am not aware of relevant information," Chinese foreign ministry spokesperson Zhao Lijian said when asked to comment about the incident. The Indian Army too did not officially respond to the reports.
The face-off happened in a disputed area near Yangtse when the rival patrols came face to face. "Both sides undertake patrolling activities up to their perception of the border. Whenever patrols of both sides physically meet, the situation is managed according to established protocols and mechanisms. Physical engagement can last for a few hours prior to disengaging as per mutual understanding. This is routine business," the Indian official added.
In August, more than 100 PLA soldiers reportedly crossed over the border into the Indian state of Uttarakhand before damaging a footbridge.
Following a 17-month long border standoff, both countries held another round of talks Sunday, which failed after the Indian Army alleged that the Chinese side was not "agreeable" and "could not provide any forward-looking proposals".
China too indicated the talks had failed. A statement from the Chinese military's Western Theater Command read, "India insists on unreasonable and unrealistic demands, adding difficulties to the negotiations." China has made "tremendous efforts to ease and cool down the border situation and fully demonstrated its sincerity," it added.
Currently, both nations have poured tens of thousands of extra troops into the high-altitude region in the Himalayas which separate them. Reports said each side has deployed around 50,000 to 60,000 troops along the Line of Actual Control, the effective border.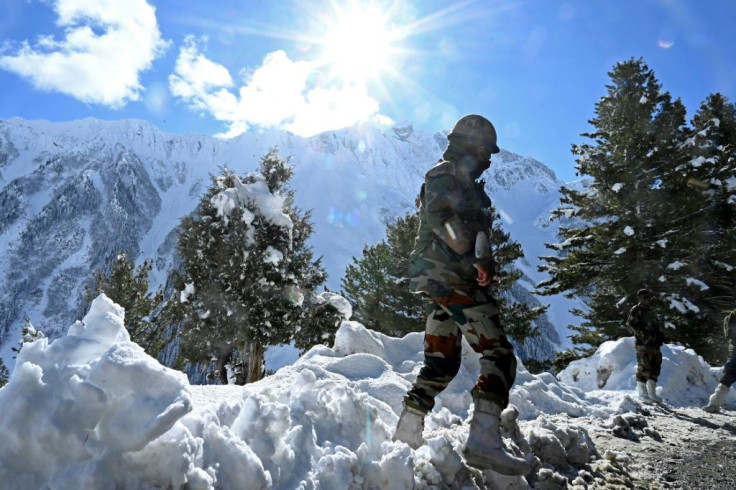 © Copyright IBTimes 2022. All rights reserved.
FOLLOW MORE IBT NEWS ON THE BELOW CHANNELS