Indonesia Plane Crash: Bad Weather Hampers Evacuation Of Victims' Bodies; Trigana Plane's 'Black Boxes' In Good Condition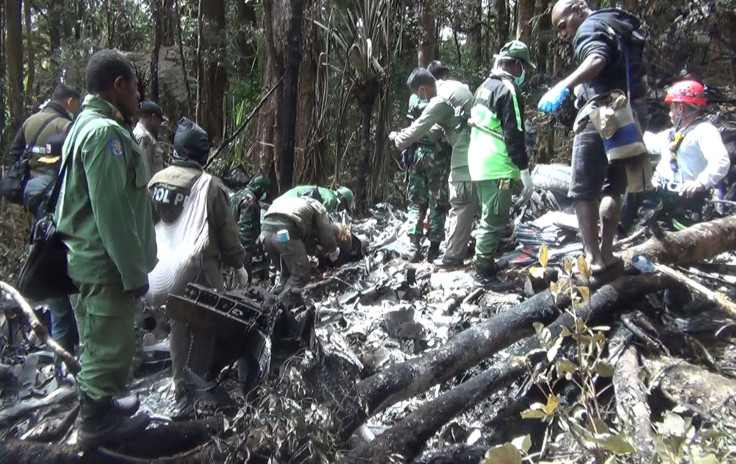 Bad weather is hampering the evacuation process of the bodies of all 54 people on board an Indonesian plane that crashed in a remote and mountainous region in the country's east Sunday, officials said Wednesday. Flight TGN267, a Trigana Air Service turboprop plane, was flying from Jayapura, the capital of Papua province, to Oksibil when it crashed into a mountain.
Henry Bambang Soelistyo, the National Search and Rescue Agency chief, reportedly said bad weather and heavy fog were making it difficult for rescuers to carry the bodies out of the crash site. "Heavy rains and poor visibility were hampering our rescue efforts and evacuation process will be done by foot," Soelistyo said, according to the Associated Press (AP).
Authorities reportedly said that all the bodies have been recovered and are ready for evacuation. The bodies were scheduled to be flown to Bhayangkara Hospital in Jayapura Tuesday for autopsies and identification.
"The DVI (Disaster Victim Identification) team has arrived at the location. It consists of three specialist doctors, namely a forensic doctor, dental forensic specialist and a DNA expert," Arthur Tampi, the National Police's medical and health center head, said, according to local media reports. Police have reportedly prepared a team to collect DNA samples from the families of the victims.
Meanwhile, Soelistyo reportedly said that the plane's "black boxes" -- the flight data recorder and the cockpit voice recorder -- were found in good condition. An analysis of the data from the instruments will help determine the cause of the crash.
Oksibil, about 175 miles south of Jayapura, was experiencing heavy rain and strong winds when the plane lost contact with air traffic control minutes before the scheduled landing of the 42-minute flight.
Four postal workers on board the aircraft were escorting four bags with $468,750 in government cash to help poor families balance an increase in fuel prices. Soelistyo reportedly said that the search team found the money, which was partly scorched, and will hand it over to the authorities.
© Copyright IBTimes 2023. All rights reserved.
FOLLOW MORE IBT NEWS ON THE BELOW CHANNELS