Infographic: Remote Workers Reluctant To Return To Workplace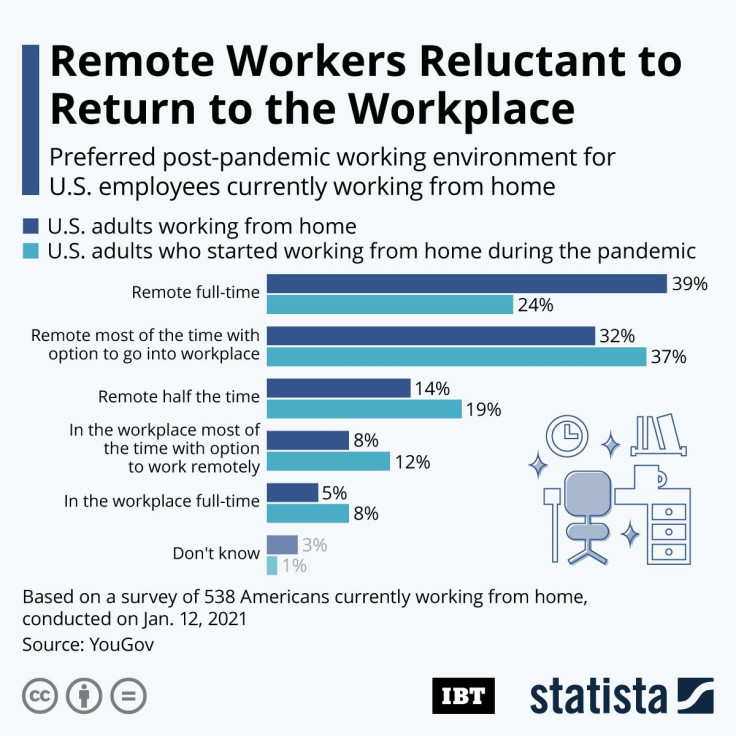 As Apple is kicking off its annual Worldwide Developers Conference (WWDC) on Monday, the company is dealing with a little trouble on the home front. Following the company's internal announcement of its post-pandemic remote work policy, a group of employees has pushed back against the planned return to offices. In an email published by The Verge, Tim Cook had asked employees to come into the office Mondays, Tuesdays and Thursdays starting in September, giving them the option to continue working remotely on Wednesdays and Fridays.
"I know I'm not alone in missing the hum of activity, the energy, creativity and collaboration of our in-person meetings and the sense of community we've all built," Cook wrote, but as it turns out, some of his employees aren't quite as eager to return to their lavish new offices as the company's leadership appears to assume. In a letter to Tim Cook and Executive Leadership, a group of employees organized in a Slack channel with 2,800 members addressed "a growing concern among our colleagues" with respect to the company's remote/location-flexible work policy. "Over the last year we often felt not just unheard, but at times actively ignored," the letter reads, arguing that many employees have felt enabled to do "the work of their lives, unconstrained by the challenges that daily commute to offices and in-person co-located offices themselves inevitably impose."
It's interesting to see that such sentiments exist even at a company like Apple, which has only just moved into its new multi-billion-dollar headquarters, where many people would love to work. It is, however, illustrative of a broader trend that has emerged over the past few months, namely a reluctance among workers to give up location flexible work after the pandemic. According to a survey conducted by YouGov earlier this year, 80 percent of Americans who started working from home during the pandemic want to continue doing so at least half the time when the pandemic is over. While 24 percent of those workers would like to work from home full-time, 37 percent would prefer a model that leaves them the option to come into the office occasionally. Apple's suggested model, i.e. working in the office most of the time, with the option to work remotely some days, is only preferred by 12 percent of those that shifted to remote work over the past year.