'Inhuman' Rafael Nadal Can Be Challenged By Only 2 Players On Clay
World No. 1 Rafael Nadal's dominance on clay continued as he was hailed by former player Peter Fleming following the retaining of his Barcelona Open title.
Nadal defeated surprise teenage finalist Stefanos Tsitsipas in a 6-2, 6-1 win Sunday to win his second title of the calendar year, his 55th clay title and his 77th overall title. The Spaniard not only equaled Roger Federer's tally of 20 ATP 500 titles won in the process, but also extended his own record to 46 consecutive sets won on clay — an all-time record on any currently played surface.
"It was emotional. I could never have dreamed of having a career like this," Nadal said after the match as a compilation of his 11 Barcelona victories were shown. "It is truly special to play here on this court. I really appreciate the support and hope it will happen for many more years."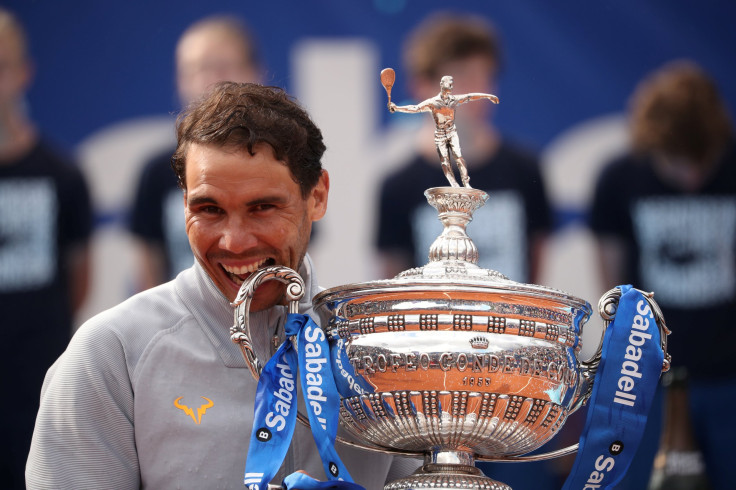 With the Madrid Open taking place next on May 5, it looks like Nadal's dominance on the surface will only continue as Fleming believes the 31-year-old needs someone who can step up to him, citing Juan Martin del Potro or Dominic Thiem as the only capable players.
"I think there is a chance that Rafa could get a little bored in a week or two before the French Open," Fleming told Sky Sports. "But we really do need one or two guys, whether it's Del Potro or Thiem or somebody to step up and say 'I can do this, I'm ready to compete with him' and raise their game, because the game needs it."
Nadal's win in Barcelona was just his second competitive tournament since withdrawing from the quarterfinals of the Australian Open back in January with a leg injury. With injuries being a constant in his career, a pain-free Nadal is clearly enjoying himself now as Fleming hailed him as a phenomenon.
"The only reason he might have retired or felt bad about his life is if he was not physically fit and he was hurting," Fleming added. "Pain is no fun and now that he is out of pain, he's enjoying himself and winning is fun."
"It's inhuman to be that dominant, in not just this event, but also Roland Garros, where everybody plays every year. He is equally as dominant. He's a phenomenon," he said. "Thiem is the hope, although he hasn't played well this year to look like threatening. Who knows? Maybe he can pull it together. Del Potro is also a good clay-court player as well, so perhaps he can do it because he has certainly been hitting the ball beautifully."
The 16-time Grand Slam winner must retain his title at Madrid and the French Open if he wants to remain No. 1 in the rankings. Nadal can also further increase his lead over Federer if he progresses further than the quarterfinals in Rome where he was coincidentally beaten by Thiem last year.
© Copyright IBTimes 2023. All rights reserved.