Inside ISIS' Bomb-Making Lab: How Islamic State Uses Prestigious Mosul University To Wage War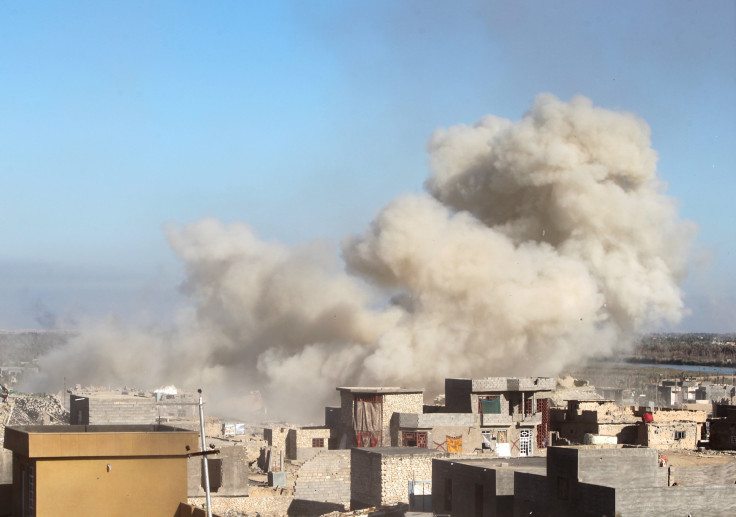 The Islamic State group reportedly has been using a prestigious university's chemistry lab in Mosul, Iraq's second-largest city, to churn out advanced explosive devices while training its militants to make them. The terrorist organization, which overran the city nearly two years ago, is using the University of Mosul's lab to cook up peroxide-based chemical bombs and suicide bomb vests, according to the Wall Street Journal, which cited U.S. and Iraqi military officials, as well as two people familiar with the university.
Iraq's top explosives officer, Gen. Hatem Magsosi, said the chemistry lab is well-stocked and has amplified the extremist group's ability to wage attacks in the embattled country. And when its fighters leave the self-declared caliphate in Iraq and Syria, they return to their home countries as experts in making bombs like the ones used in the recent deadly terrorist attacks in Brussels and Paris.
"The University of Mosul is the best Daesh research center in the world," the general told the newspaper, using another name for the Islamic State group, also known as ISIS. "Trainees go to Raqqa [Syria], then to Mosul University to use the existing facilities."
It's unclear whether the group's bomb-making labs in Mosul are still up and running. The U.S.-led coalition against ISIS has apparently targeted the sprawling university campus with airstrikes more than once. The Pentagon said Tuesday it was pursuing an ISIS weapons storage facility and headquarters but did not provide further details.
"We do know that Daesh has used some of those buildings for military purposes, and we bombed them," Col. Steve Warren, spokesman for the U.S. military in Iraq, told the Wall Street Journal, adding that the coalition will continue to strike such facilities if they are uncovered.
ISIS captured Mosul in the summer of 2014, and by March 2015, dozens of ISIS scientists and engineers had established a research center in the university's highly acclaimed chemistry lab. People with knowledge of the university were apparently told at the time that specific units had been set up there for studying chemical explosives, weapons and suicide bomb construction, the Wall Street Journal report said.
The Iraqi government announced last week the launch of an operation to recapture Mosul from ISIS, but the military is also busy working to liberate the lucrative oil fields held by the Sunni militant group near Makhmur. It's unclear what the operation will entail and how long it will take.
© Copyright IBTimes 2023. All rights reserved.