iPhones Up, iPads Down: Apple Stock Flat On Third Quarter Results (AAPL)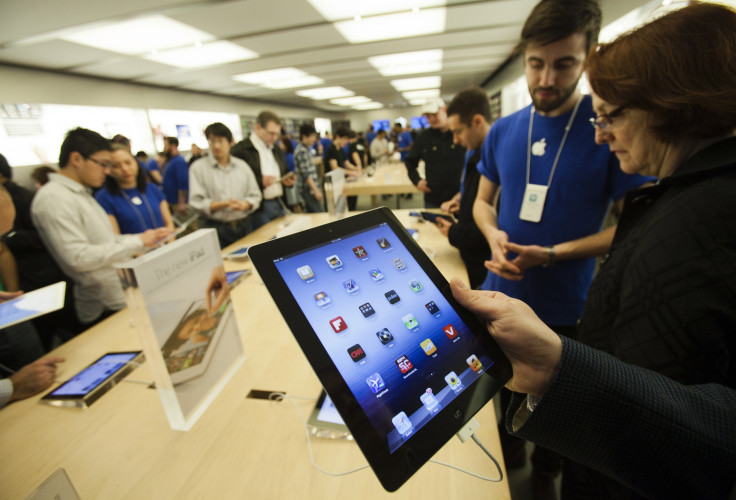 Apple Inc. looks more and more reliant on its iPhone after the company posted lower revenues in its fiscal third quarter than Wall Street expected. As iPad sales dwindle, the manufacturer faces pressure to succeed in a new product category with its rumored iWatch.
Apple (NASDAQ:AAPL) reported earnings on Tuesday, announcing that it had sold fewer iPhones and iPads than analysts were predicting. Not all the news was bad: Apple sold 4 million more phones in the third quarter compared to the same period in 2013, or 35.2 million iPhones. The 12 percent growth in iPhone sales buoyed revenue, while iPad sales dropped 9 percent to 13.3 million. Analysts expected Apple to sell 15 million units of the tablets.
Apple CEO Tim Cook announced during a call to discuss earnings that the iPhone had its best June ever -- with 35 million sold. Cook emphasized that the iPad is meeting Apple's expectations, even if analysts are disappointed.
"What is important to us is people are using and enjoying [the iPad]," Cook said. Apple's tablet has a 98 percent satisfaction rate with customers, a number that rises to 100 percent for the iPad Mini, according to a report from ChangeWave Research.
The problem with the iPad is that American interest in it lags behind places like China and the Middle East, Cook said. This could be improved by better penetration into the U.S. enterprise markets -- offices and schools are still largely devoted to the traditional PC, and higher education is still a "notebook-oriented" market, Cook said. But education has been a strength for competitor Google Inc.'s (NASDASQ:GOOGL) Chromebooks. The search giant said Monday that it sold over a million of the low-cost laptops directly to schools from April to June, the same period where Apple sold 13 million iPads total.
Cook said that Apple's partnership with the IBM Corp. (NYSE:IBM) will help it increase enterprise sales of the iPad, and that enterprise apps were mostly simple ports from iPhone that haven't yet taken full advantage of the iPad's larger size. He promised that "significant innovation" is still on the way for the iPad. But sales of the tablet are slowing, and Apple will have to create a new product category if it's looking for significant new growth.
© Copyright IBTimes 2023. All rights reserved.