Iran Bolsters Strategic Alliances: Expanding Drone Production Facilities In Belarus And Russia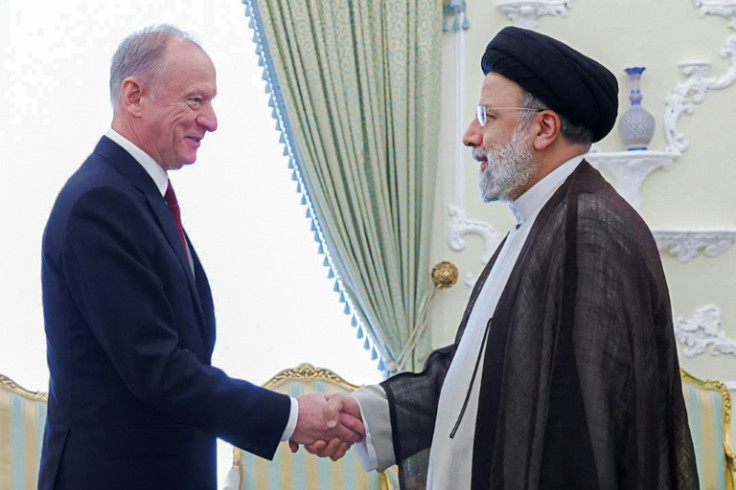 KEY POINTS
There were reports that Iran had received sophisticated surveillance software and cyber weaponry from Russia
The White House later said that "Russia has been using Iranian UAVs in recent weeks to strike Kyiv"
The U.S. also raised concerns about Russia working with Iran to produce Iranian UAVs from inside Russia
Iran is in the process of establishing manufacturing facilities in Belarus and Russia, dedicated to the production of unmanned aerial vehicles.
"Iran is pursuing the construction of drone factories in Belarus and Russia, which will help Russia acquire Iranian drones more readily and provide Iran with numerous economic and military benefits," an analytical review by the Institute for the Study of War (ISW) claimed.
The ISW highlights that Iran has entered into enduring strategic pacts with Belarus and Russia. Consequently, Russia stands to gain by procuring Iranian drones to potentially utilize in the context of the situation involving Ukraine.
Furthermore, the establishment of an Iranian drone manufacturing facility in Belarus is poised to alleviate the "logistical challenges" that Russia encounters when transporting drones from Iran through the Middle East.
"Iran will benefit by receiving revenue for the Iranian economy. The British Secret Intelligence Service revealed in July that Iran seeks to acquire cash from Russia in return for Iranian drones...Iran is currently facing critical economic conditions, with the value of the rial surpassing 500,000 rials to one US dollar on Aug. 1...The Iran Statistical Center reported on July 25 that Iran's inflation rate is approximately 47.5 percent..."
The ISW report suggests that Russia could also contribute to the advancement of the Iranian military. Toward the end of 2022, speculation arose in Western media about the potential for Iran to acquire Russian Su-35 fighter jets in return for the supply of drones. Nevertheless, in recent months, doubts regarding the feasibility of obtaining the Su-35s have been mounting among Iranian military authorities.
In March, reports in several media indicated that Iran had received sophisticated surveillance software and cyber weaponry from Russia in a trade involving drones. A senior Israeli military figure voiced apprehension over the possibility that Russia might be furnishing Iran with Western armaments acquired during the conflict in Ukraine.
Referring to declassified data, the White House said in June that the Uncrewed Aerial Vehicles (UAVs), commonly known as drones, were manufactured in Iran, transported across the Caspian Sea, and subsequently deployed by Russian military forces in actions against Ukraine.
"Russia has been using Iranian UAVs in recent weeks to strike Kyiv and terrorize the Ukrainian population, and the Russia-Iran military partnership appears to be deepening," White House spokesman John Kirby said in a statement at the time. "We are also concerned that Russia is working with Iran to produce Iranian UAVs from inside Russia."
In May of 2023, Ukraine put forward an assertion that Iranian engineers were engaged in the process of exploring the transformation of factories situated in Homiel, Belarus, into facilities dedicated to drone production.
Subsequently, in June, the Biden administration disclosed that Iran was collaborating with Russia on the construction of a drone manufacturing plant located in Yelabuz, Tatarstan, Russia.
© Copyright IBTimes 2023. All rights reserved.