Iran May Still Depend On North Korea To Procure Materials For Missiles, Report Says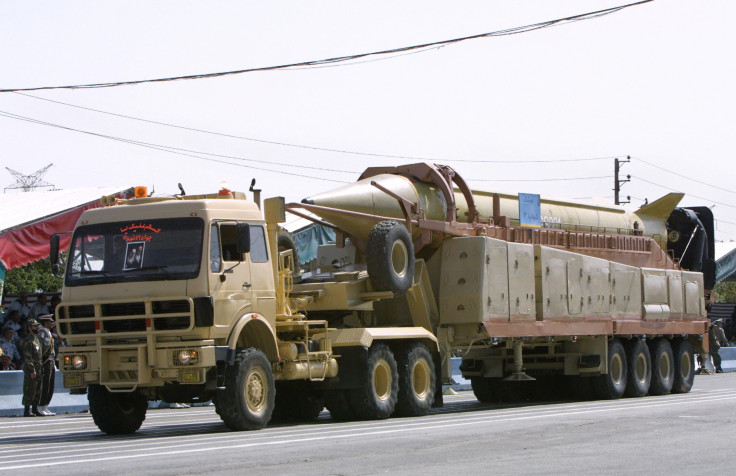 A report by Washington's Congressional Research Service (CRS) raised suspicions that Iran boosted its missile development by taking help from North Korea and may still be dependent on the Kim Jong Un regime to get some materials for the ballistic missiles, Yonhap reported. The CRS report cited the intelligence community to say that North Korea's cooperation with Iran was significant until the 2000s.
"Iran has likely exceeded North Korea's ability to develop, test and build ballistic missiles. But Tehran may, to some extent, still rely on Pyongyang for certain materials for producing Iranian ballistic missiles, Iran's claims to the contrary notwithstanding," the report said, according to Yonhap: "For example, some observers argue that Iran may not be able to produce even its Scud B and Scud C equivalents — Shahab-1 and Shahab-2, respectively — without some foreign support for key materials or components."
However, the report cited James Clapper, director of National Intelligence, as saying in 2014 that Iran was not receiving assistance for its inter-continental ballistic missile program. He also said last month that there has "not been a great deal of interchange" between Tehran and Pyongyang.
While the report raised suspicions about the Iran-North Korea partnership over missile programs, it said that Syria continues to depend on the two countries for its missile program. The report noted a testimony from Defense Intelligence Agency Director Michael Flynn in 2013 that Syria's liquid-propellant missile program — Scud B, Scud C and Scud D missiles — depends on "essential foreign equipment and assistance, primarily from North Korean entities," Yonhap reported.
Although an official analysis by the U.S. has reportedly said that there has not been any cooperation between Iran and North Korea, local news reports have indicated some alleged cases of cooperation between the two countries. Among the local reports, there has also been speculation about Iranian officials looking into North Korea's nuclear tests.
"U.S. officials have stated publicly that there is no nuclear cooperation between Iran and North Korea," the report said, according to Yonhap, adding: "Knowledgeable current and former U.S. officials contacted by CRS said that they were unaware of official unclassified U.S. government evidence of nuclear cooperation between Iran and North Korea."
The report also cited Dennis Blair, who was director of National Intelligence in 2009, as saying that North Korea could try to transfer its nuclear technology and material. "Pyongyang probably also perceives that it would risk a regime-ending military confrontation with the United States if the nuclear material was used by another country or group in a nuclear strike or terrorist attacks, and the United States could trace the material back to North Korea," the report cited Blair as saying, according to Yonhap.
He also added, according to Yonhap: "The North might find a nuclear weapons or fissile material transfer more appealing if its own stockpile grows larger and/or it faces an extreme economic crisis where the potentially huge revenue from such a sale could help the country survive."
North Korea tested nuclear devices in 2006, 2009 and 2013 after which it announced this January that it conducted its fourth nuclear test. Since then, the country has also conducted missile tests, launched a rocket and has threatened attacks against Western allies several times. The United Nations Security Council, US, and South Korea have condemned the nuclear advancements by Pyongyang, but Kim has called to boost nuclear capability furthermore.
Last week, Iran also test-fired several ballistic missiles, challenging a U.N. resolution, and triggering threat of sanctions from Washington. Although Iran's missile tests raised concerns over the nuclear deal signed by Tehran in exchange of lifting the economic sanctions, officials have said that the nuclear deal was not violated.
© Copyright IBTimes 2023. All rights reserved.