Iran News: Tehran Reverses Decision To Deny Entry To US Wrestlers Over Trump Travel Ban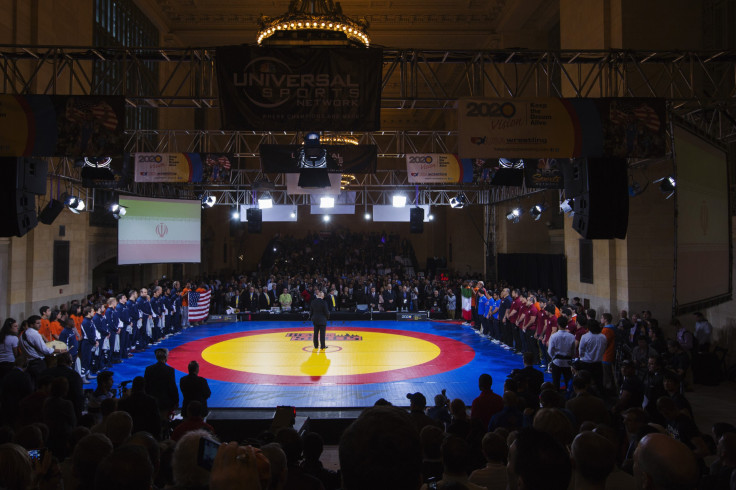 Iran announced Sunday that it has reversed its decision of banning the U.S. wrestling team from participating in the 2017 Freestyle World Cup to be held later this month, according to state media. Earlier, in response to President Donald Trump's executive order denying visas for Iranians, Tehran had said it would do the same for U.S. wrestlers seeking to participate in the event.
Iranian Foreign Ministry Spokesman Bahram Qasemi told the country's state-run IRNA news agency Sunday that Iran decided to issue the visas after a U.S. federal judge issued a temporary nationwide block to the travel ban on seven Muslim-majority nations. The decision was also taken as the International Wrestling Federation (IWF) and the Iranian Wrestling Federation interceded on behalf of the U.S. wrestlers for their entry to the games.
Iran's Foreign Minister, Javad Zarif, also announced the news on Twitter.
"Following the court ruling suspending #MuslimBan & the requests from Iranian Wrestling Federation & FILA, US Wrestlers' visa will be granted," he wrote.
On Friday, U.S. Federal Judge James Robart of Seattle blocked Trump's immigration restrictions, which also banned travelers from Iran, Iraq, Libya, Somalia, Sudan, Syria and Yemen from entering the U.S. Late Saturday, the Justice Department filed a motion to appeal Robart's order. However on Sunday morning, the U.S. Court of Appeals for the Ninth Circuit denied the request for an immediate stay to the judge's order.
Amid the travel restrictions, United World Wrestling — the governing body for amateur wrestling — has been working closely with the organization's president Nenad Lalovic to bring unity ahead of the Feb. 16 event in the western Iranian city of Kermanshah.
Meanwhile, tensions between the U.S. and Iran continue to flare up. The Trump administration recently put the country "on notice," and issued fresh sanctions on Tehran in response to its ballistic missile test late last month. Reacting to the sanctions, Iran announced Saturday that it will carry out missile launches as part of military exercises aimed at demonstrating its "complete preparedness to deal with the threats" and "humiliating sanctions" from Washington.
© Copyright IBTimes 2023. All rights reserved.