Iranian Protesters Confronted At World Cup Game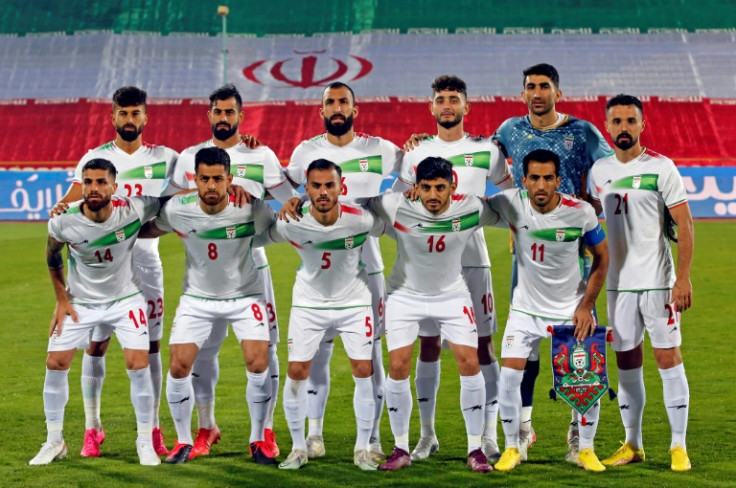 Iranian protesters and pro-Iranian government supporters confronted each other on Friday during the national team's Fifa World Cup match against Wales.
The groups shouted and harassed each other, with some protesters saying their flags were confiscated, according to the BBC.
Protests have been widespread across Iran since 22-year-old Mahsa Amini died in September. Amini was taken into custody by the Iranian morality police, reportedly not wearing her hijab correctly. Amini died three days later, on Sept. 16.
Amini's death has sparked protests across Iran, with people taking to the streets and metro stations to protest against the treatment of women, the morality police, and the Iranian government. Last week protests escalated partially in conjunction with the third anniversary of Bloody November when hundreds of Iranian protesters were killed while protesting against high oil and gas prices.
The protests last week saw police opening fire on demonstrators in the country's metro stations and beating protesters.
During Friday's World Cup game, Iranian fans and protesters waved Persian pre-revolutionary flags, and pro-government fans at the Ahmad Bin Ali Stadium attempted to take the flags, the BBC reported.
People wearing T-shirts that said the protest change "woman, life, freedom" said they experienced insults. An Iranian fan with the names of protesters killed by Iranian security forces drawn on her body was ordered by Qatari police to wash them off after a pro-government Iranian fan complained. The BBC has also reported that a woman was not allowed to enter the stadium while wearing a T-shirt with Amini's face.
Iranian players have shown some support for the protesters remaining silent during the singing of the Iranian national anthem during their first game of the competition against England. On Friday, before the start of the match against Wales, the Iranian team sang the anthem half-heartedly after facing fierce backlash from the Iranian government.
The Guardian reported that some Iranian fans in the crowd openly booed the national anthem and that fans with signs that read "women, life, freedom" were confronted by stadium officials.
Friday's game also saw some fans wearing hats with the name of former Iranian football player Voria Ghafouri, who was arrested in Iran on Thursday. Ghafouri played for the Iranian national team until 2019 and was arrested for reportedly spreading propaganda against the Islamic Republic the Fars Iranian news agency reported.
The Iranian-Kurdish player has been a critic of the Iranian government and a supporter of the protests.
Oslo-based non-profit organization Iran Human Rights (IHR) reported Tuesday that 416 people, including 51 children, had been killed by Iranian security forces since the protests began.
© Copyright IBTimes 2023. All rights reserved.
FOLLOW MORE IBT NEWS ON THE BELOW CHANNELS