Iran's Nuclear Deal Will Be 'Exclusively Peaceful' If Conditions Are Met, Kerry Says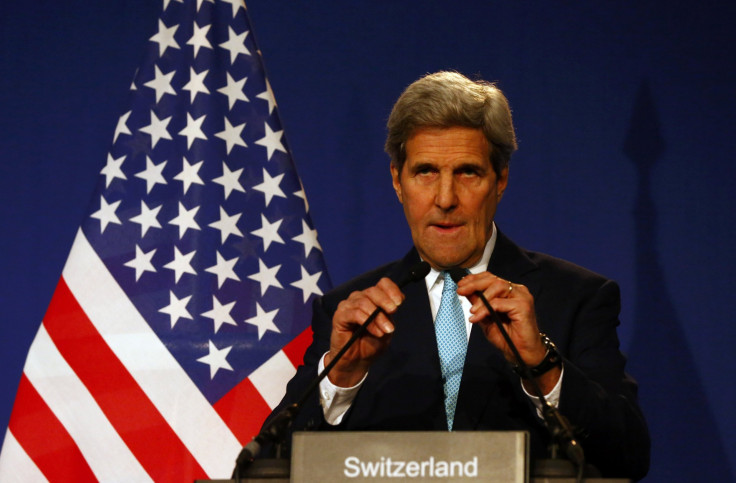 U.S. Secretary of State John Kerry said Thursday "there will be no sunset" to the restrictions on Iran's nuclear programs, which will be implemented in phases. While some provisions will be in place for 10, 15 or 25 years, others – including transparency measures – will "never expire." Kerry said the bottom line is to ensure a safer, more secure world for years to come.
"Under this arrangement, the international community will have confidence Iran's nuclear program is exclusively peaceful if they adhere to the conditions," Kerry said in a televised statement in Lausanne, Switzerland, where negotiations have taken place over the past eight days.
Kerry said the coming weeks will be crucial to ironing out key details in finalizing a comprehensive deal by the end of June. But a long-term solution relies upon Iran's commitment to the implementation of the agreed provisions. "A final agreement will not rely on promises. It will rely on proof," Kerry said Thursday.
Under the draft agreement, Iran will slash its stockpile of enriched uranium by 98 percent for 15 years and the country will be subject to robust and intrusive inspections by the International Atomic Energy Agency to monitor its nuclear capabilities.
International economic sanctions over Iran's nuclear programs will be lifted once the deal is finalized and the provisions are carried out. But Kerry said these sanctions can "snap back" in place if Iran fails to adhere to the agreement in any way.
"We will not accept just any deal," he said Thursday. "We will only accept a good deal and today, I can tell you, the political understanding with details we have reached is a solid foundation for the good deal that we are seeking."
© Copyright IBTimes 2022. All rights reserved.
FOLLOW MORE IBT NEWS ON THE BELOW CHANNELS