Iraq ISIS Battle: 30 Police Killed In Ramadi, Iraqi City Under Assault From Islamic State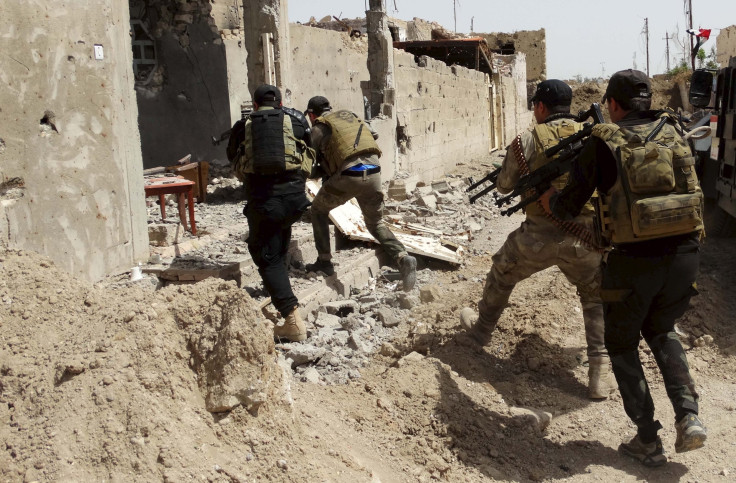 Thirty Iraqi police died in clashes between security forces and the Islamic State group in the past week in Iraq's Anbar province, an Iraqi police official said Monday. About 100 more were injured in the fighting, which took place in the city of Ramadi, about 75 miles west of Baghdad, which has come under periodic assaults from the Islamic State group during recent months.
Ramadi had seen "heavy confrontations and fighting" between local Iraqi security forces and fighters from the Islamic State group over the past week, Anbar Police Chief Staff Maj. Gen. Kadhim al Fahdawi told Agence France-Presse.
Iraqi forces appeared to regain ground in Ramadi last week. Fighters from the Islamic State group -- which is also known as ISIS or ISIL -- launched their most recent assault on the city in mid-April, and local officials warned at the time that the militant group was close to capturing the city, calling for reinforcements, including air support, from the Iraqi government and the U.S.-coalition that is fighting ISIS. Prior to its offensive, ISIS had been consolidating territory north, south and east of Ramadi, leaving only areas west of the city under government control, CNN reported. The group has also controlled much of Anbar province since early last year. It claimed responsibility for suicide car bombings Saturday at a border crossing with Jordan that killed at least five Iraqi soldiers and wounded 10.
In mid-March, ISIS carried out a coordinated attack of suicide car bombings in Ramadi, killing at least 10 people. Prior to that event, its forces had hovered around the outskirts of the city for months. At the end of March, Iraqi forces, aided by Shiite militias from Iran and airstrikes from the U.S.-led coalition, retook control of Tikrit, a major city in northern Iraq that had been under Islamic State group control since June 2014.
Following that victory, Iraqi Prime Minister Haider al Abadi said that retaking Anbar province, where Ramadi is located, would be the "next stand and battle" against the Islamic State. However, Iraqi Defense Minister Khaled al Obeidi said at the time that operations in Anbar would look different from the ones that won back Tikrit.
© Copyright IBTimes 2023. All rights reserved.
FOLLOW MORE IBT NEWS ON THE BELOW CHANNELS