Iraqi Army Recaptures Tikrit, Key City 85 Miles North Of Baghdad From ISIS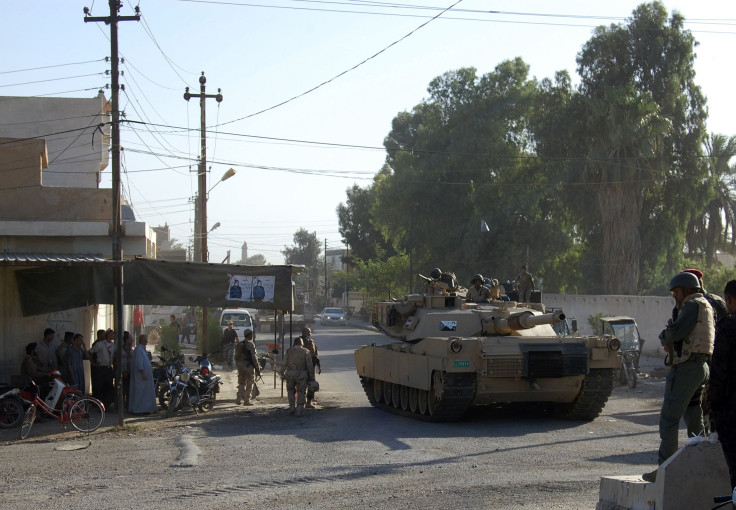 The Iraqi military drove militants from the Islamic State of Iraq and Syria (ISIS) from key positions in Tikrit, a city 86 miles (140 kilometers) north of Baghdad that ISIS has held since June 11.
The Iraqi surge dislodged militants from the center of Tikrit, key roads and government buildings but battles continue across the city, the New York Times reported. Iraqi military spokesman Gen. Qassim Atta said the Iraqi military killed Abu Abdul Hadi, who commanded ISIS forces in the north of the city.
The operation to take back Tikrit began early Saturday and involved both ground and air assaults. Helicopter gunships struck targets around a university north of the city where ISIS and government forces clashed Friday. A resident told Al-Jazeera Iraqi helicopters dropped barrel bombs and criticized the military for hitting non-ISIS targets. State television claimed Iraqi forces killed 60 militants.
The Iraqi military was supported by both Shiite volunteers and Sunni tribal militias in the region.
Tikrit has a population of 200,000 and was the birthplace of Saddam Hussein. It is a center of anti-government sentiments in Iraq. ISIS forces committed mass executions of 160 to 190 Iraqi soldiers in Tikrit in the days following capture of the city. Human Rights Watch analyzed satellite data and compared it to photos released by ISIS of the executions to count the dead.
ISIS militants continue to hold key border crossings with Syria, enabling them to move equipment captured from fleeing government forces to Syria.
ISIS claimed to destroy eight Iraqi tanks, employing suicide bombers and improvised explosive devices to do so.
The Iraqi victory comes amid calls for Prime Minister Nouri al-Maliki to step down and a new, "representative" government be elected. Critics of Maliki, a Shiite, say his policies have left Sunnis underrepresented and have contributed to the current unrest. One Sunni leader, who criticized ISIS as terrorists but urged the West to recognize the "oppressed" Sunnis in the country, said Saturday the violence would not end until Maliki steps down.
More than 150 of the 300 U.S. military advisers sent to Iraq arrived in the country earlier this week, but Iraqi officials said they did not play a role in the Tikrit operation. If Iraqi forces can hold Tikrit, it could stand as a major morale booster for a military seen as weak following unorganized retreats across northern Iraq earlier this month. Iraqi forces also recaptured the Baiji oil refinery, a key facility about 50 miles north of Tikrit on Wednesday.
© Copyright IBTimes 2023. All rights reserved.