Iraq's Abadi Attempts To Name New Cabinet Amid Mass Protests In Baghdad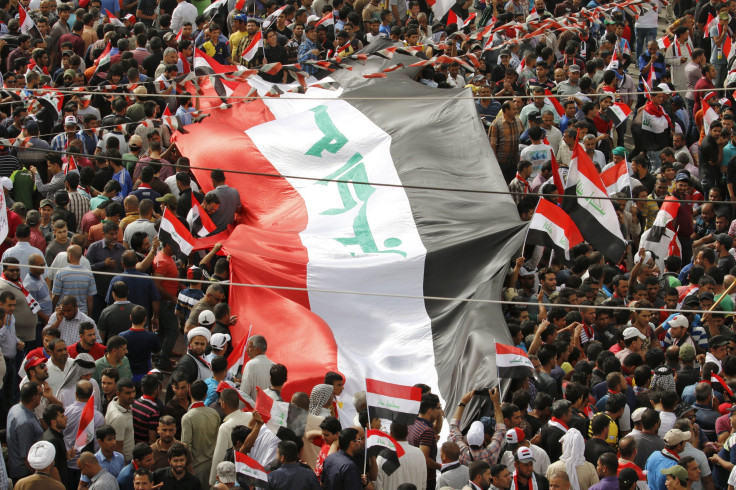 Iraqi Prime Minister Haider al-Abadi on Tuesday submitted to Parliament the names of candidates for his cabinet but was forced out of the building when lawmakers began throwing water bottles at him. The vote on cabinet member nominees eventually proceeded, but Abadi was blocked from speaking. Meanwhile, thousands of people took to the streets demanding immediate government reform.
At the end of the session, parliament had voted on five of Abadi's nominations. They will vote on the remaining nominations on Thursday.
For weeks Abadi has attempted to reshuffle his cabinet to rid the government of corruption by appointing technocrats. However, his efforts so far have largely failed as many of the people he put forward as cabinet member nominees rejected their appointments.
"The current political crisis threatens the stability of Iraq in an unprecedented manner, and the crisis could see the government collapse," the Institute for the Study of War reported in a recent assessment of Iraq.
Members of Parliament have protested Abadi's efforts to appoint new leaders and called for Abadi's ousting. Religious Shiite heavyweights, meanwhile, pressured Abadi to press forward with his reform movement.
Muqtada al-Sadr, a powerful Iraqi Shiite cleric who used to support Abadi, called on the government to form a new cabinet in a handwritten letter that was also published on social media. He warned that if the government did not move forward with negotiations, it could collapse altogether. Sadr has warned that his supporters will attack ministries if demands for reform are not met.
The chaos in Baghdad is occurring while the police and security forces battle the Islamic State group, also known as ISIS, which still controls the major city of Mosul and much of western Iraq.
The international community, particularly the U.S. and the United Nations, has tried to instill calm in the country. Secretary of State John Kerry visited Baghdad earlier this month and vowed to ramp up pressure against ISIS. The U.S. sent an additional 200 troops to the country to help the Iraqi forces battle the terrorist group.
© Copyright IBTimes 2023. All rights reserved.