ISIS In Africa: After Islamic State Attack, Libya's National Oil Company Issues 'Cry For Help'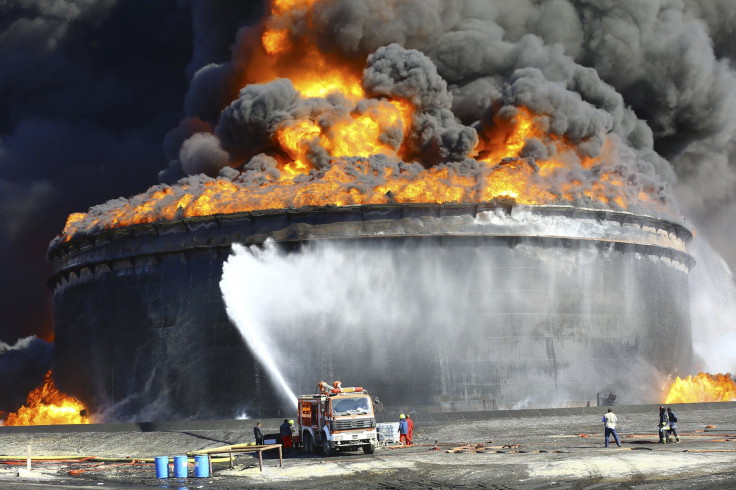 Libya's state-owned oil company issued a "cry for help" Tuesday as the Islamic State group attacked a second oil tank near Es Sider, the North African nation's largest oil port which has been closed for over a year. An oil storage tank in the port was set ablaze by a long-range rocket and two guards were killed, while 16 others were wounded in clashes with ISIS militants, a spokesman for the Petroleum Facilities Guard told Bloomberg News.
The Islamic State group, also known as ISIS or ISIL, struck an oil tank on Monday in nearby Ras Lanuf, Libya's third-largest port. Fires from both tanks were still burning Tuesday afternoon. Seven guards were killed in the fight, while 25 others were injured, according to Reuters.
"We are helpless and not being able to do anything against this deliberate destruction to the oil installations," Libya's National Oil Corporation said in a statement on its website Tuesday. "National Oil Corporation urges all faithful and honorable people of this homeland to hurry to rescue what is left from our resources before it is too late."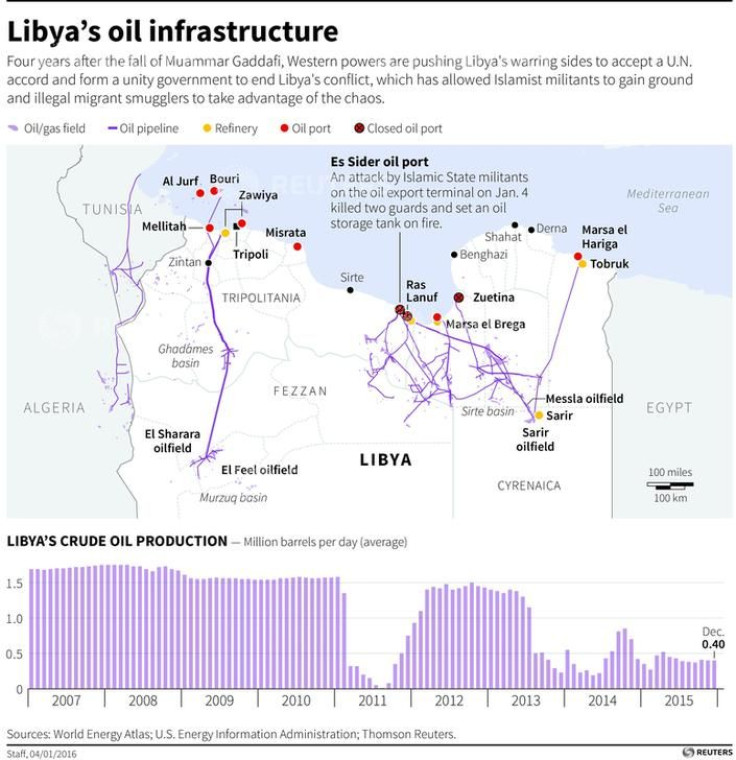 The Islamic State group, which controls swaths of territory across the Mediterranean Sea in Iraq and Syria, previously tried to attack Es Sider in October. The militants killed one guard but were repelled at the gate of the oil export terminal by forces of the Petroleum Facilities Guard. Es Sider and nearby Ras Lanuf, which are located between the ISIS-held city of Sirte and the eastern city of Benghazi, have been closed to oil exports since December 2014 when armed groups attacked the ports.
Libya plunged into chaos after the fall of longtime dictator Moammar Gadhafi in 2011. The Islamic State group, also known as ISIS or ISIL, has exploited the power vacuum to tighten its grip on Libya. The country has had two rival administrations since August 2014, when a well-armed alliance of militias took over the capital Tripoli and forced the government to retreat east. With Africa's largest oil reserves, Libya was once pumping about 1.6 million barrels per day of crude before the 2011 rebellion. Crude oil production has since plunged to less than a quarter of that figure, making Libya the smallest producer in the OPEC, according to Bloomberg News.
With around 3,000 fighters currently operating in the country, ISIS has solidified its foothold in Libya by seizing the coastal city of Sirte. The Islamic extremist group predominantly relies on the production and sale of seized energy assets. The militants have seized major oil fields and facilities in Syria and Iraq and have set their sights on Libya's lucrative oil wells, according to AFP news agency .
© Copyright IBTimes 2023. All rights reserved.