ISIS In Beirut? Double Suicide Bombing Raises Fears Of Islamic State Offensive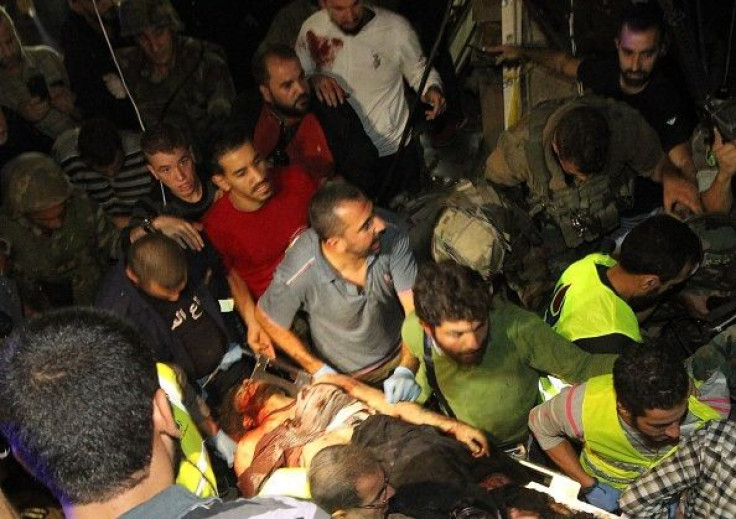 BOURJ Al-BARAJNEH, Lebanon -- By the deafening sound and pressure, Ali knew that what he had just heard outside the restaurant where he worked was a bomb. The crowded marketplace in Beirut's southern suburb turned chaotic as citizens rushed to help. Ali tried to stop them because he feared there might be another bomber waiting. He was right. Four minutes later, a second suicide bomber detonated his explosive-laden belt in front of a bakery just 20 meters away. Ali called his wife and his children; then he, too, went to help.
"People here wanted to go help and people here aren't scared to get killed because they will be martyrs," Ali, who asked that his last name not be published, told International Business Times from his home about 30 meters away from the scene of the first blast. "There were dead and wounded everywhere. Women, children and dead all over the street."
The Islamic State group claimed responsibility for the double bombing that killed at least 43 people and injured roughly 240 more in Bourj al-Barajneh, a residential area associated with the Lebanese Shiite group Hezbollah, which has been fighting Sunni militants in Syria alongside the Syrian regime. This is the first bombing the Hezbollah stronghold has seen in roughly 10 months -- an ominous sign that the group also known as ISIS or ISIL wants to bring the Syrian battle to Lebanon.
In Bourj al-Barajneh, no one doubted that Sunni militants purposely targeted Hezbollah's stronghold in retaliation for fighting in Syria. They were also adamant Hezbollah would take its revenge in Syria.
"Of course it is the takfiri, they don't have religion," Ali said. [Takfiri is a term to describe those who consider members of other religions apostates.] "That's what takfiris do, kill civilians."
"We will retaliate but not against their civilians, against their militants," Ali said.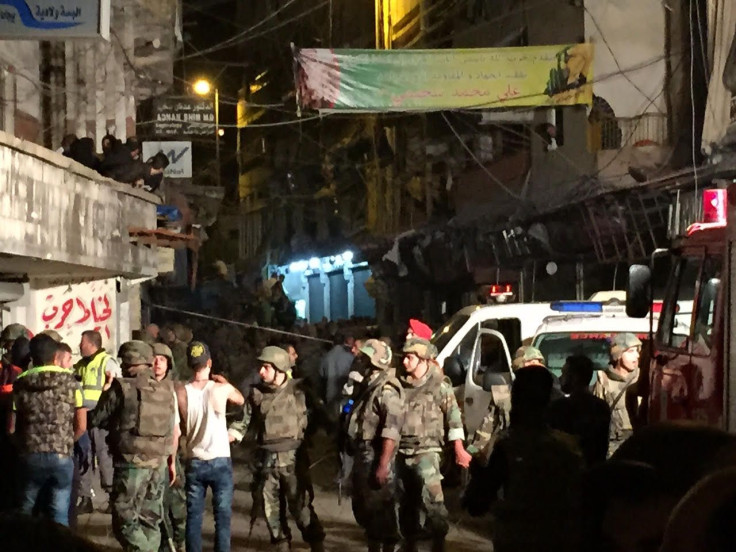 While the area is a Hezbollah stronghold, the explosions targeted civilian areas. Sahel General Hospital, one of three in the area, received about 40 injured people, including women and children. Ten bodies also arrived at the hospital. One was a woman; five were so badly disfigured they could not be identified, Sahel's medical director told IBT.
"For a week, everyone has been talking about a bomb that might go off in Dahiyeh [suburb]," said Said Slim, who owns a perfume shop facing the scene of the second explosion. "If this would have happened an hour before they would have killed thousands. It's a very busy marketplace."
Many possible victims were still missing and not accounted for, hours after the bombing. Residents of Dahiyeh were running from all directions toward the hospital, pausing only at checkpoints manned by Hezbollah security officials. The locals were looking for their missing friends, family members and neighbors and wanted to donate blood for the victims. Hezbollah's security forces surrounded the area, allowing only victims' families inside the hospital.
"You can't stop the families. We didn't ask for the security, but it's what they tell you to do," the medical director said.
Mohammed, who declined to give his last name, was one of the first to arrive at the hospital. He is a computer programmer, not a doctor, but knew the medical staff would need help unloading the dead and wounded who were arriving in civilian cars before the ambulances and Lebanese Red Cross arrived at the scene.
One of the first victims he pulled out of a car was man in his twenties who had lost a lot of blood. The man was tall, dark-skinned and had a long face. His blood type was O negative, so Mohammed asked his own brother, whose blood was a match, to donate. Despite his efforts, the man died from his wounds.
An hour later, a woman approached Mohammed -- whose jeans, by this point, were covered in blood -- and asked if he had seen her son. She described him: dark-skinned, tall, a long face.
"Internally I knew it was him, but I couldn't tell her," Mohammed told IBT from the hospital.
Outside the hospital, at the scene of the bombings and all around Dahiyeh, groups of young men stood huddled around a phone as they looked at gruesome photos and reports from the blast. A few of them pointed out photos of the disfigured suicide bomber to IBT.
After the attack, Hezbollah set up checkpoints all over its stronghold, many with between five and 10 armed men patrolling. Residents of Dahiyeh have seen this before, when Hezbollah stepped up security last year after a wave of bombings in the area.
"Tomorrow the security is going to be so tight. Business is going to be off now," Slim, the perfume shop owner, said. "The bomb wave is back in Dahiyeh."
Many residents worried that Thursday's attack was the start of another series of attacks. Yet they remained defiant and ready to defend their homes.
Ali, whose house is just meters from the blast site, said: "I will stay here tonight and so will my wife and children. We will never leave."
FOR FREE to continue reading
✔️ Unlock the full content of International Business Times UK for free
offer available for a limited time only
✔️ Easily manage your Newsletters subscriptions and save your favourite articles
✔️ No payment method required
Already have an account?
Log in
© Copyright IBTimes 2023. All rights reserved.