ISIS Killed A US Soldier? Pentagon Says Islamic State Claim Is False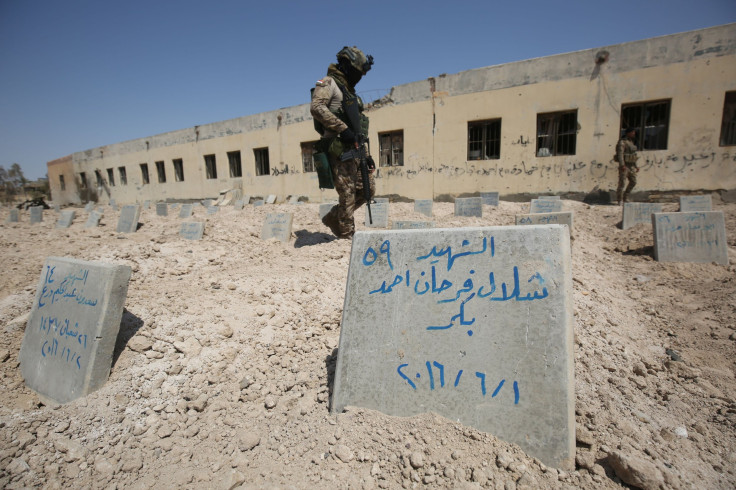 The Pentagon debunked a claim from the Islamic State group Monday that it had killed a U.S. soldier near the Syrian city of Aleppo, calling it an example of the militant group's propaganda.
ISIS reportedly claimed on its official news site it had killed the U.S. serviceman Monday in the village of Gharatah Al-Sahhir, which is near the town of Manbij and some 58 miles from Aleppo, according to Arab world news site AMN. The statement also reportedly claimed the killing of nine members of the Kurdistan Workers Party, or PKK, the Syrian forces opposing ISIS' advances in the region.
But an Air Force spokesman for Operation Inherent Resolve, the name given to the U.S. and Iraqi Security Force's fight against ISIS, said on Twitter Monday that the terror group's claim was false. A different spokesman for the Iraq operation responded to a request for comment from International Business Times by saying military officials were looking into the report, but he did not confirm or deny its veracity.
ISIS has previously made claims of killing U.S. soldiers. The most recent instance came in July but was met with a similar denial from the Pentagon after ISIS said it had downed a warplane in Iraq's Anbar province and killed all of the crew members aboard. ISIS has taken down warplanes before, but the U.S. Central Command later said all its aircraft and crew was accounted for.
This most recent claim comes just days after the Iraqi Security Force, with aide from U.S.-led airstrikes, retook control of the Sharqat district Thursday, according to UPI. ISIS had reportedly displaced more than 160,000 Iraqis from the Saladin Governorate in north central Iraq.
"Within 72 hours, our armed forces have fought a swift and unique battle resulted in the full liberation of Sharqat and raising the Iraqi flag over its governmental offices," Iraqi Brig. Gen. Yahya Rasoul said in a statement to Iraqi News.
During the battle, an Iraqi army officer said "hundreds" of ISIS fighters were killed, according to UPI.
Earlier this month, U.S. Special Operations forces started to partner with Turkish and Syrian forces for a new operation in northern Syria , the Washington Post reported, and a Pentagon spokesman said the U.S. personnel on hand would "provide the same train, advise and assist support they have been providing to other local partners in Syria fighting" ISIS.
© Copyright IBTimes 2023. All rights reserved.