Israel's E1 Plans: Why It Is Obama Vs Netanyahu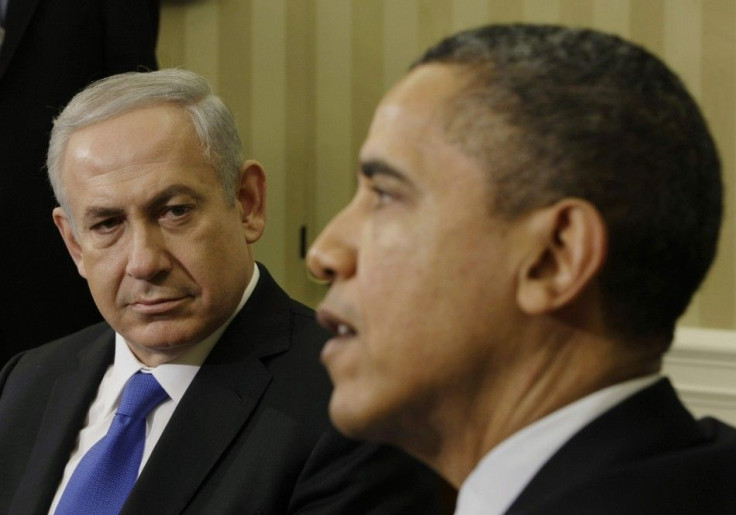 Amid condemnation pouring in from the international community over Israel's construction plans in occupied West Bank and East Jerusalem, the relationship between the U.S. and Israel is being subjected to increased scrutiny for real or perceived tensions.
When five European nations — Great Britain, France, Spain, Sweden and Denmark — decided Monday to summon the Israeli ambassadors to protest Israel's construction plans, doubts were raised in Tel Aviv on whether Washington was complicit with the European decision.
Israeli daily Yedioth Ahronoth quoted unnamed Israeli diplomats as saying that the Europeans could not have stepped up their protest without a nod from the Obama administration.
"The Europeans have removed the kid gloves. We have not seen such an extreme reaction to an Israeli decision in recent years," a senior Israeli diplomat told the newspaper.
"We would not be mistaken to say that Europe was acting with Washington's encouragement," the paper's commentator, Shimon Shiffer, wrote. "The White House authorized Europe to pounce on the Netanyahu government and to punish it."
"It has to do with the Obama administration's recognition that a path has to be found to conclude the peace negotiations between Israel and the Palestinians," the commentary said.
In retaliation for a U.N. vote that accorded Palestine a non-member observer state status, Israeli Prime Minister Benjamin Netanyahu decided Friday to move ahead with plans to build some 3,000 new housing units in East Jerusalem and the West Bank and advance new construction in the sensitive E1 area near Jerusalem, reneging on a promise he had made to the Obama administration.
On the day Netanyahu made the decision, U.S. Secretary of State Hillary Clinton, in an address to the Saban Center for Middle East Policy in Washington, said: "For years we have told you, our Israeli friends, that America has Israel's back."
"And this month, we proved it again," she said, referring to Washington's support of Israel during the recent fighting in Gaza.
"When Israel responded to a rain of rockets, when sirens sounded and schools emptied and air raid shelters filled, America's next move was never in question. President Obama and I stood before the international community and supported Israel's right to defend itself from a threat no country would tolerate. The Iron Dome system – invented by Israel, underwritten by America – knocked rockets out of the sky like never before."
"The world knows – and always will know – that whenever Israel is threatened, the United States will be there," she added.
The U.S. was the only major world power which voted against Palestine in the U.N. vote Nov. 29.
However, the Obama administration did not hesitate to use tougher-than-usual words in its criticism of the Israeli plans to restart construction in the E1 zone that would prevent territorial contiguity between the northern and southern West Bank, posing difficulties for the functioning of the Palestinian state.
Like his predecessors Ariel Sharon and Ehud Olmert, Netanyahu had made a commitment to Washington that Israel would not build in the E1 area, a wedge zone between Jerusalem and the West Bank.
The E1 decision is being viewed as Netanyahu's retaliatory step against Obama for his refusal to recognize the 2004 letter of agreement between his predecessor George W. Bush and former Israeli Prime Minister Ariel Sharon, which guaranteed that settlements within the 1967 borders would remain a part of Israel in any future peace agreement with the Palestinians.
Former U.S. Ambassador to Israel Dan Kurtzer told Haaretz Monday that Washington was angered by a background briefing in which an Israeli official said that Israel was not bound by its previous agreement to refrain from constructing buildings in E1 area and that the reason was the Obama administration's refusal to reaffirm Bush's 2004 letter.
"So this was something they had wanted to do for four years. It wasn't just retribution at the U.N., it was retribution at the U.S. as well," Kurtzer was quoted as saying.
How the Israeli construction decision is playing out in Washington has gained so much focus that Israeli daily Haaretz observed: "Finally, Bibi has his ground war. But the target's no longer Hamas. Now it's Obama."
"But why Obama as a target?" senior Haaretz columnist and editor Bradley Burston asks in his opinion piece. "The image and the office of the president help Netanyahu stay on message. And his message to the voters he seeks out is clear: You are only as important as the people you anger. Even if your life is in the sewer, if you have succeeded in infuriating and in some way bringing low the most powerful man in the world, you – thanks to Benjamin Netanyahu – have arrived."
Still, the Obama administration has not responded, at least in public.
White House spokesman Jay Carney, when asked Tuesday whether Israel would face any consequences for restarting settlement construction, said, "I don't have anything additional to provide to you on that."
The U.S. may be delaying a response in recognition of the fact that Netanyahu may be posturing politically ahead of the Jan. 22 Israeli national election, and that any actual construction could take a long time to begin, Reuters reported.
© Copyright IBTimes 2023. All rights reserved.