Israel's Netanyahu Again Talks Tough On Iran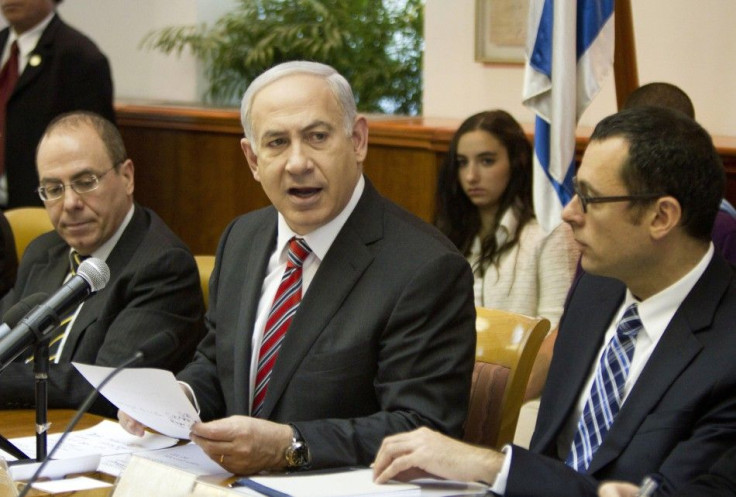 Israeli Prime Minister Benjamin Netanyahu has again made belligerent remarks about Iran, during a press conference marking three years since his coalition government took office.
We will attack those who threaten to attack us, he said, according to the Haaretz newspaper of Israel, in reference to both Iran's suspected nuclear weapons program and the threat of rocket launches by Hamas in Gaza, and Hezbollah in Lebanon.
While touting his government's handling of the Iranian nuclear threat, the prime minister warned that Israel needs to urge the international community to continue pressuring Iran into giving up its atomic ambitions.
Netanyahu also referred to reports that the U.S. government is intentionally leaking information in order to dissuade the Israelis from launching a military strike on Iran.
The Obama administration told us publicly to talk less about the Iranian issue and I hope that others are also behaving thus, Netanyahu said, according to the Jerusalem Post.
Netanyahu also pointed to economic achievements that his administration has delivered.
"[The government] has brought about a series of reforms and important structural changes that helped the economy grow, helped [to] reduce social disparities and helped Israel through the severe economic crisis of 2008 and 2009, he declared.
Among other items, Netanyahu cited a lower jobless rate, an improved credit rating and lower energy prices.
Separately, Haaretz reported that senior military officers told the cabinet that if Israel sustained a coordinated conventional missile attack from Iran, Syria, Hezbollah and Hamas, fewer than 300 people would be killed, along with hundreds wounded and severe damage to property and infrastructure.
Reportedly, Defense Minister Ehud Barak earlier claimed a higher casualty estimate of about 500 dead from such an attack.
Turkish Prime Minister Recep Tayyip Erdogan has warned of the "disastrous" consequences of a potential Israeli missile attack on Iran.
In defending Iran's right to pursue nuclear energy, the Turkish leader said "no one has the right to impose anything on anyone with regards to nuclear energy, provided that it is for peaceful purposes, according to Turkeys' Today Zaman newspaper.
"Everyone with common sense opposes nuclear weapons."
© Copyright IBTimes 2023. All rights reserved.