It Gets Better: Peruvian Politician Comes Out Amid Debate For Same-Sex Civil Unions, Showcases Peru's Fight Against Homophobia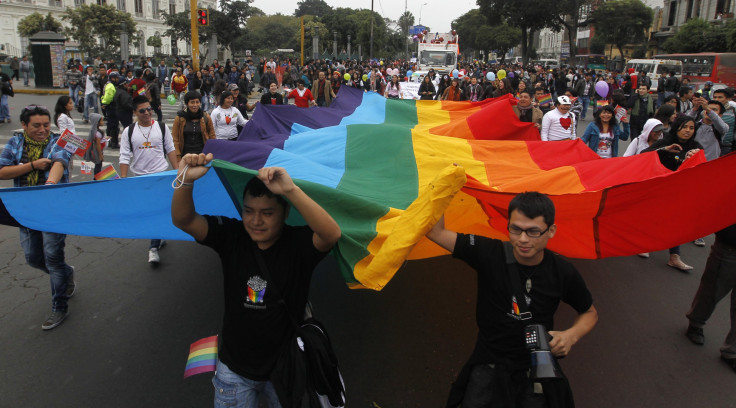 The next country in Latin America to advance gay rights could be Peru. A draft bill to legalize same-sex civil unions, which was presented to Congress in early May, gathered momentum when its chief sponsor came out of the closet on Monday.
Senator Carlos Bruce, a member of the centrist Perú Posible (Possible Peru) party, announced that he is gay a day after the International Day Against Homophobia was celebrated in several countries across Latin America, including Peru. "I have made public this private aspect of my life to showcase what rights I, as many other Peruvians, do not have," he said at a press conference after the announcement.
Bruce is arguably the first celebrity to come out of the closet in Peru, and he did so at a time when gay rights are the subject of intense debate in the socially conservative country. His bill was introduced in September 2013 to the Senate, and it passed despite fierce opposition from Peruvian political leaders and negative public opinion.
According to an April 2014 survey by consultancy Ipsos Peru, 61 percent of Peruvians are against same-sex civil unions. A third of Peruvians think that homosexuality can be corrected and said that if their child came out of the closet, they would try to change their sexual orientation.
"The Peruvian society works through 'moral panic,'" explained local psychologist María Raguz, who specializes in gender studies. "The country's authorities are extremely conservative, which promotes a patriarchal society based in the Catholic church ideology."
Peru was named the least gay-friendly country in Latin America, according to a 2013 survey by queer tourism company Spartacus. It ranked 108th out of 138 countries around the world, sharing a position with Turkey, Zambia and Uganda, far below other South American countries like Mexico (48) and Brazil (22). Uruguay, ranking at number 9, was named the most tolerant country in the region.
Hate crimes are still perpetrated in the country, accounting for 17 murders of LGTBQ people between January 2013 and March 2014, according to the annual report on gay rights by the Promsex NGO. That figure is a significant number in a country where the murder rate for 2012 was 10.5 per 100,000 inhabitants, according to the United Nations.
The report also showcases episodes of discrimination, such as two transgender Peruvians who were not allowed to vote in the presidential elections of 2013 because their appearance did not match the photos on their identification forms.
Bruce's revelation was met with a strongly divided reaction, and many Peruvians used Twitter to express their disapproval of the senator's sexual orientation. "Homosexuals should not be permitted to be in Congress," wrote user Miguel Amanchaqui. "I would be ashamed of you if I was your daughter," wrote Yessenia Contreras.
A number of politicians attacked the senator. César Acuña, the mayor of Trujillo -- Peru's second largest city -- used him as a punchline when asked by reporters if his deputy would be a man or a woman. "I could just name Bruce and be done with it," he said, while his assistants laughed.
Bruce's revelation was praised by gay rights activists.
"The most important thing in the fight towards gay rights is to make the gay community visible to the rest of the country," said Víctor Serna, activist and director of the movement "Todo Mejora," inspired by the famous "It Gets Better" campaign. "You cannot speak of equality if the community stays in the shadows."
Nobel-prize winner Mario Vargas Llosa showed his support for Bruce's initiative, as well as same-sex civil unions. "The country would not fall apart if gays were allowed to live together," he said. "Life will continue as usual, just as it has in the 17 countries that have legalized same-sex unions."
If the bill is passed, Peru would become the sixth country in Latin America to allow same-sex civil unions. Peru's Congress is expected to reach a decision by late June.
© Copyright IBTimes 2023. All rights reserved.