Italian Bond Costs Break 'Unsustainable' 7% Level; European Markets Shudder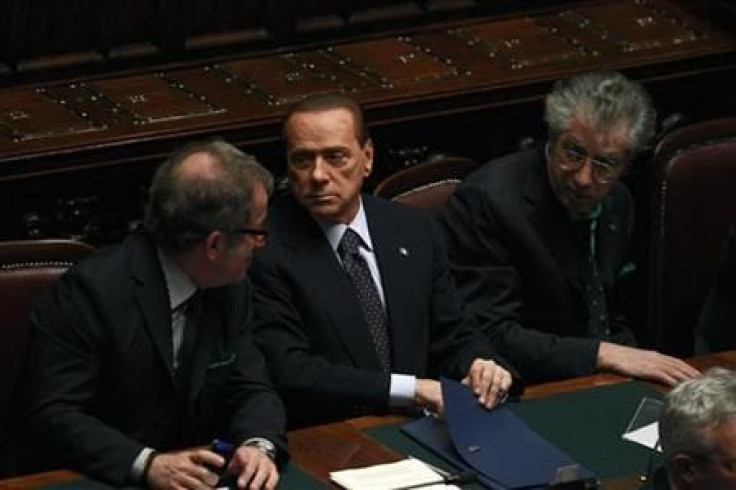 Italian borrowing costs reached the breaking point Wednesday after Prime Minister Silvio Berlusconi's promise to resign failed to raise optimism about the country's ability to deliver on long-promised economic reforms.
Italian 10-year bond yields shot above the 7 percent level that is widely deemed unsustainable, reflecting investors' concerns that they may not get their money back, a fear that also showed up in a jump in the cost of insuring against Italian debt default.
Portugal and Ireland were forced to seek EU-IMF bailouts when their borrowing costs reached similar levels and clearing house LCH.Clearnet sounded another alarm by increasing the margin it demands on debt from the euro zone's third largest country, effectively raising the cost of holding its bonds.
The European Central Bank, the only effective bulwark against market attacks on the euro zone, wasted no time intervening to buy Italian bonds, traders said.
The ECB is buying in decent sizes, a London hedge fund investor said. It makes you wonder how much firepower it has. It's scary. The market was a bit naive when Berlusconi left. Now it realizes there's a mountain to climb.
Italy has replaced Greece at the center of the euro zone debt crisis and is teetering on the cusp of requiring a bailout that Europe cannot afford to give.
Having lost his majority in a key parliamentary vote, Berlusconi confirmed he would resign after implementing urgent economic reforms demanded by the European Union, and said Italy must then hold an election, in which he would not stand.
He opposed any form of transitional or national unity government -- which the opposition and many on the markets favor -- and said polls were not likely until February, leaving a three-month policy vacuum in which markets could create havoc.
Even with the exit of a man who came to symbolize scandal and empty promises, it will not be easy for Italy to convince markets it can cut its huge debt, liberalize the labor market, attack tax evasion and boost productivity.
There is no guarantee (Berlusconi's) successor will be able to do a better job. Just keep your eyes on the Italian yield for now, Christian Jimenez, fund manager and president of Diamant Bleu Gestion, said.
FRUSTRATION
Policymakers outside the euro area kept up a chorus of pressure for more decisive action to stop the crisis spreading.
Christine Lagarde, head of the International Monetary Fund, told a financial forum in Beijing that Europe's debt crisis risked plunging the global economy into a Japan-style lost decade and said it was up to rich nations to shoulder the burden of restoring growth and confidence.
Our sense is that if we do not act boldly and if we do not act together, the economy around the world runs the risk of downward spiral of uncertainty, financial instability and potential collapse of global demand... we could run the risk of what some commentators are already calling the lost decade.
Berlusconi has reluctantly conceded that the IMF can oversee Italian reform efforts.
Euro zone finance ministers agreed on Monday on a roadmap for boosting the 17-nation currency bloc's 440-billion-euro ($600 billion) rescue fund to shield larger economies like Italy and Spain from a possible Greek default.
But with bond investors increasingly on strike, there are doubts about the efficacy of those complex leveraging plans, and with Italy's debt totaling around 1.9 trillion euros even a larger bailout fund could struggle to cope.
Lagarde said she was hopeful that the technical details of an EU plan to boost the European Financial Stability Fund (EFSF) to around 1 trillion euros would be ready by December.
Many outside Europe cannot understand why the ECB does not take a more active role as other major central banks do in acting as lender of last resort. German opposition to that remains implacable, seeing it as a threat to the central bank's independence from politics.
German central bank chief Jens Weidmann, a key member of the ECB, rejected a separate proposal to use national gold and currency reserves or IMF special drawing rights to boost the bailout fund, welcoming opposition from Chancellor Angela Merkel to the same.
But with the ECB just about the only buyer of Italian bonds, according to traders, it may have to act more aggressively to contain the latest wave of crisis, despite internal opposition to its bond-buying program.
It could call on limitless power if it began printing money as the Federal Reserve and Bank of England have. But for it, and Berlin, that is a step too far.
GREEK STANDOFF
With the markets' fire turned firmly on Italy, Greece's struggle to find a new prime minister became something of a sideshow, but one which demonstrated the difficulty in taking decisive action anywhere within the euro zone.
Greek political leaders scrambled to agree on a new premier to lead the country back from the brink of bankruptcy, after a plan to name a former European Central Bank official appeared to fall apart.
In the past two days government sources have made a number of optimistic predictions about forming the government, which must secure a 130-billion-euro ($180-billion) bailout from the euro zone, only for no deal to materialize.
The socialist and conservative parties had wanted former ECB vice-president Lucas Papademos to lead a government of national unity, aiming to re-establish an international credibility that the politicians lost long ago.
But he appears to have made demands about his level of influence which they could not swallow.
(Additional reporting by Renee Maltezou and Angeliki Koutantou in Athens, Kirsten Donovan and William James in London, writing by Mike Peacock)
© Copyright Thomson Reuters 2023. All rights reserved.