Italian President Giorgio Napolitano To Step Down, Who Will Replace Him?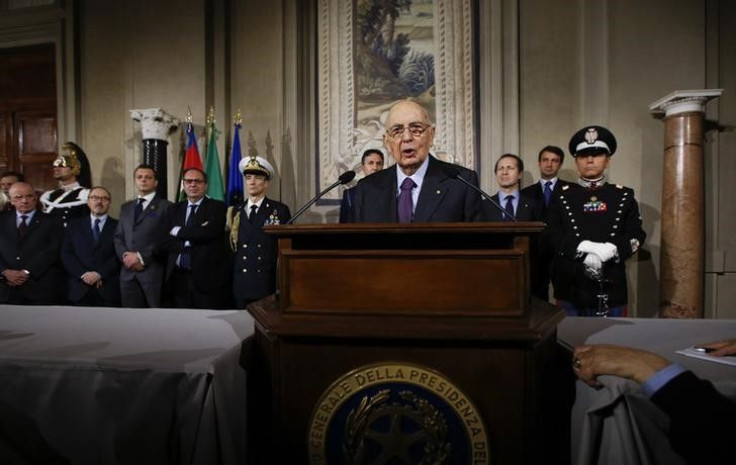 Italian President Giorgio Napolitano is expected to step down from his position within hours, Prime Minister Matteo Renzi said on Tuesday. The 89-year-old president, in office since 2006, has been hinting at the possibility of leaving his position because of his age but only announced his resignation officially in December, Reuters reported. His departure comes at the end of the rotation for the European Union presidency, which turns over to a new leader for the council every six months.
Head of the Italian Senate Pietro Grasso will act as president until a new one is appointed, according to Italian newspaper Il Sole 24 Ore. Napolitano said he was happy to be returning home, Italian newspaper La Reppublica reported. He said that while everything is good, being the head of state is a bit like being in prison.
Napolitano was the first president in Italy's history to take a second term, though he did so in 2013 in an attempt to help Italy through political chaos. His re-election was supported by both parties as a last resort following indecisiveness to choose a new candidate and a faltering economy. Recently, the country has faced a drop in borrowing costs, a record high in unemployment and tension as anti-immigration sentiments are spanning the country.
"I cannot dismiss my responsibility toward the nation," he said before the vote, according to the New York Times.
Concerns arose last year after speculation that Napolitano would step down, but some aren't worried. Mattia Guidi, a fellow in Rome's Luiss University School of Government, told TheLocal.it that Renzi had a strong cabinet and would be able to handle the challenge of finding a new head of state. The system is stable enough to see Napolitano go and wait for a new president without any consequences, he said.
Parliament will begin voting for a new president at the end of the month. Former prime ministers Romano Prodi and Giuliano Amato, both presidential candidates in the past, will again be considered for the top job.
© Copyright IBTimes 2023. All rights reserved.